Indian doctor barred from UK practice after cancer patient's death in Mumbai hospital
The Medical Practitioners Tribunal Service judgement concluded that oncologist Pantula Sastry had given high-dose of chemotherapy and performed a stem cell transplantation on a cancer patient despite knowing that the conditions weren't suitable for the procedure.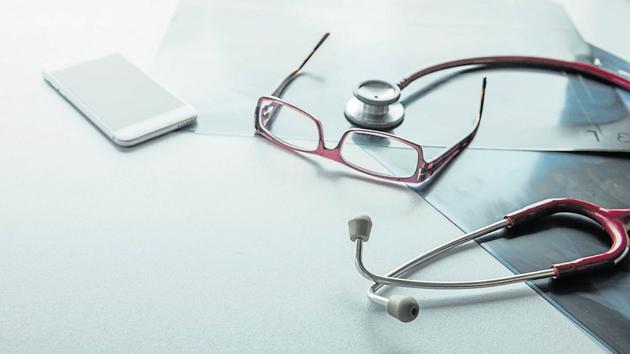 Updated on Sep 07, 2018 04:43 PM IST
Hindustan Times | By Aayushi Pratap
, Mumbai
An Indian oncologist has been barred from practising medicine in the United Kingdom after a medical tribunal in the country found him responsible for a cancer patient's death in a Mumbai hospital in 2014. The Medical Practitioners Tribunal Service (MPTS) judgement, which has been reported in the British Medical Journal, concluded that oncologist Pantula Sastry had performed a stem cell transplantation on a cancer patient knowing that the conditions weren't suitable for the procedure.
According to the MPTS press office, Sastry has appealed against their order in the UK's High Court of Justice. Sastry's legal representative confirmed to HT this development.
Sushma Agarwal, 55, had been admitted to Kokilaben Dhirubhai Ambani Hospital (KDAH) for treatment of a condition known as Non-Hodgkins lymphoma. Here, Sastry performed an autologous bone marrow transplant on Agarwal (see box).
According to Agarwal's son, Avtansh, Sastry performed the transplant with the knowledge that the CD34 count was inadequate. Agarwal, who died 23 days after the transplant, showed no signs of improvement after the procedure, Avtansh said. When Avtansh approached a doctor at a different hospital, he was told Agarwal's CD34 counts had been inadequate for the transplant.
Avtansh then registered a case of medical negligence with the Maharashtra Medical Council (MMC). But no case has been heard by MMC till date.
In 2015, when Avtansh learnt that Sastry had relocated to the UK and was practising there, he reported his mother's case to the UK's general medical council (GMC). After conducting an investigation, GMC initiated proceedings against Sastry in the UK medical tribunal.
In its final hearing on August 1, 2018 the tribunal found that in Agarwal's case, Dr Sastry had gone ahead with chemotherapy and transplant 'in full knowledge of the inadequate number' of CD34. Moreover, the tribunal found that he was incompetent to conduct as the procedure was 'outside his area of expertise.'
Sastry contended that at the time, he had received two different counts of CD34 from the laboratory. The laboratory telephoned him and told him the count was 0.5% (adequate), as opposed to what was then mentioned in the report – 0.05% (inadequate).
However, the tribunal found his claims to be unsubstantiated. "It is your case that having recognised the discrepancy, you ignored entirely the CD34 results and instead proceeded on the basis of the mononuclear cell count," said MTPS.
It said that a "reasonable and well informed member of the public would find it unacceptable and disgraceful that a doctor proceeded with high dose chemotherapy with BEAM in the knowledge that there were not sufficient CD34 stem cells available to enable that patient to recover"
"The Tribunal considers that the prime reason that you have made no apology or expression of remorse is that you maintain that you did nothing wrong. The Tribunal found no acceptable justification for your lack of apology or your repeated attempts to mislead it," it added.
The judgment order by the tribunal, which HT has a copy of, says, "The Tribunal has determined that your conduct was so unacceptable, that it is fundamentally incompatible with continued registration."
Ram Narain, chief executive officer, KDAH told HT "The matter is before various forums. I would not like to comment on it."
Avtansh said there is finally a sense of vindication and closure. "I promised myself that I would not let the doctor escape scot-free despite such a blatant case of negligence and incompetence. It hasn't been easy to put everything together on a technical subject and then pursue all possible avenues to get justice."
Close Story