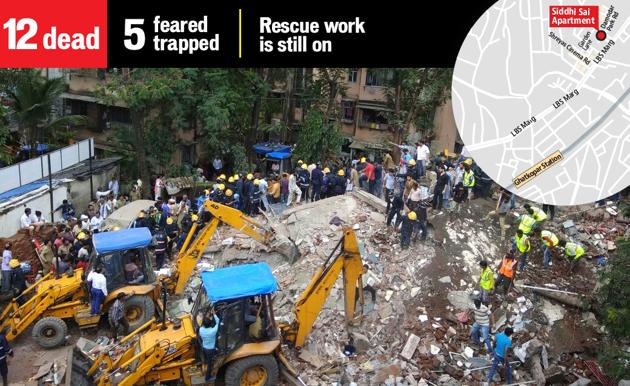 Mumbai building collapse | At least 12 dead; don't take LBS Marg in Ghatkopar, say traffic cops
Live updates on the rescue operation at Ghatkopar building at Lal Bahadur Shastri Marg
By HT Correspondents
, Mumbai
UPDATED ON JUL 26, 2017 12:40 AM IST
A five-storey building at Damodar Park on Lal Bahadur Shastri Marg in Mumbai's Ghatkopar, Sai Darshan, collapsed on Tuesday, civic officials said. According to sources, a nursing home was being run on the ground floor of the building. Civic chief Ajoy Mehta has asked a two-member committee to submit a report within 15 days.
Fourteen fire engines, one rescue van and an ambulance have been rushed to the spot.
The highlights of the rescue operation:
5.30pm: 2-member committee to support report on the incident to civic chief in 15 days
4.31pm: Of the 18 people rescued, 6 dead,12 injured. Of the 12 injured, six have been treated and discharged
3.35pm: 12 people rescued, including 4 men and 8 women. Four declared dead
3.30pm: Traffic advisory: Road at Sanghani Junction, Ghatkopar is shut. Traffic from LBS Road will be diverted on the eastern express highway. .
3.27pm: Prakash Ajmera, who suffered minor injuries, is in stable condition.
3.26pm: Ridhhi Khalchandani suffered a severe head injury and fractures. She is currently in the ICU. Her condition is stable.
3.25pm: The four dead have been identified as Ranjan Shah, Sulochana Khalchandani, Divya Ajmera and Amruta Thak
3.22pm: Dr Praful Lokhande, Shantiniketan Hospital, said, "We have treated about 10-12 people with minor injuries. Four deaths were reported in the hospital. Two patients are currently in the ICU and two are in general ward."
3.15pm: Firefighter Ganesh Khandge and his associate suffocated owing to gas leak while trying to rescue a woman. They were rushed to Shantiniketan hospital. He was admitted in the ICU.
2.59pm: Raju Doshi still trapped. His wife and son escaped as they had gone to a temple.
2.46pm: "My sister, brother-in-law and their one-year-old son lived here. I have checked all hospitals, but they are nowhere," says Lalit Upadhyay
2.44pm: One more resident succumbs to injuries
2.20pm: Rescue work is still on. Watch
2.04pm: Residents say the renovation work of the hospital has been going on for the past one month.
2pm: The society is three decades old, has fifteen members
1.58pm: "My mother, brother and sister-in-law are trapped. We lived on the third floor. I left for work at 9am," says Rajesh Diyora
1.55pm: Sandip Patil says, "My friend shifted here from a chawl three months ago. I don't know where he is."
1.48pm: Locals say the society is old. Most residents have been living here for a long time
1.47pm: Samruddhi Mayekar says, "The building started shaking. I called out to Mrs Geeta."
1.45pm: A three-month-old child becomes the third victim
1.37pm: Of the rescued, four are in stable condition at Rajawadi hospital, 4 are in stable condition at Shantiniketan hospital and three have been given OPD treatment. Two succumbed to their injuries
1.36pm: So far, 13 people have been rescued
1.33pm: The update so far: 3 injured, 2 dead
1.27pm: NDRF called in
1.20pm: "My sister, daughter and her 5-month-old granddaughter are trapped. I don't know where they are," says Krishna Rao, a relative, adding the family had recently bought a flat in the building. Watch
1.14pm: Sniffer dog pressed into service
1.13pm: Two others being treated at Rajawadi hospital
1.10pm: Building was not in the C1 category building – extremely dangerous that needs immediate redevelopment, say BMC sources
1.05pm: A woman in the neighbouring building raised alarm, as she saw the building shaking
1.04pm: Locals residents said the building started to shake as construction work was underway on the ground floor. Labourers had a lucky escape
1.03pm: Second casualty is an 80-year-old
1.01pm: One more dead.
12.56pm: Patients have trauma injuries, none critical. Watch
12.52pm: The woman who died was 60 years old
12.48pm: Residents of nearby Shanti nagar say they heard a loud thud. Within seconds, the two wings collapsed.
12.42pm: Nursing home on the ground floor was vacant. Three to four families lived on each floor
12.41pm: Worried residents gather at the spot to assist in the rescue work
12.39pm: Police advise motorists to avoid LBS Marg
12.35pm: The rescue operations in progress. Watch
12.33pm: Traffic towards Ghatkopar blocked
12.25pm: A woman, who suffered injuries in the collapse, died
Close