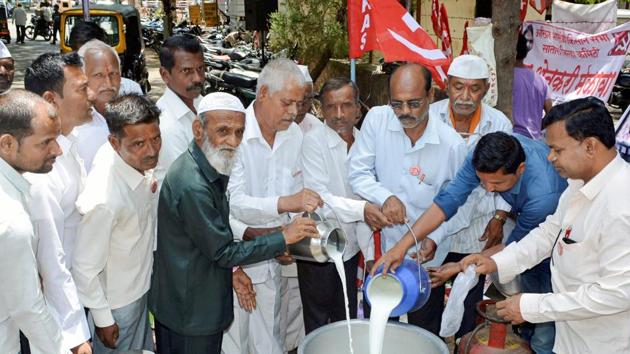 Maharashtra dairy farmers begin protest, to stop supplying milk to big cities after May 9
Farmers have decided to distribute milk for free between May 3 and 9, but if their demand is not met, they said they will stop supplying milk to the big cities
UPDATED ON MAY 04, 2018 11:50 AM IST
Dairy farmers across Maharashtra started a seven-day agitation in Ahmednagar district on Thursday, demanding a minimum support price (MSP) for milk. For now, the farmers have decided to distribute milk for free, between May 3 and May 9, but if their demand is not met, they said they will stop supplying milk to the big cities.
While the state has already fixed the MSP for milk at ~27 per litre, after similar protests in 2017, the farmers, under Dudh Utpadak Sangharsh Samiti, said they were being short-changed by the wholesalers. The government sets the MSP to ensure a minimum profit for the farmers.
Ajit Nawale, who heads the organisation and is also the state secretary of Left-affiliated All India Kisan Sabha, slammed the BJP government over its failure to intervene and prevent the falling procurement price of milk.
"The government declared the MSP around eight months ago, but farmers are still getting ~17 and incurring losses. Therefore, we have started this agitation. Why is the government stealing from us, it should take milk for free," he said.
Nawale said the farmers are, for now, distributing milk for free only in Ahmednagar, Aurangabad, Pune, Satara, Sangli, Kolhapur, Solapur and Parbhani districts.
Nawale was one of the organisers of the 2017 farmers' strike, and the Long March by cultivators from Nasik to Mumbai in March this year.
In June last year, dairy farmers poured thousands of litres of milk on the streets across the state, to protest against the Maharashtra government for not fixing procurement rates.
The government said it was working out a mechanism to ensure farmers get the MSP. State animal husbandry minister Mahadev Jankar said he was helpless against private milk processing units, who allegedly do not pass on the promised MSP to the dairy farmers.
"Private dairies account for 60% of milk procurement in the state. We cannot act against private players as there is a 2003 rule which gave a freehand to them. However, we are trying change the rule by the next assembly session," Jankar said.
Close