Maharashtra govt blames effluent treatment plant for Kasadi river pollution, books 10 members
Nov 15, 2017 11:02 AM IST
Untreated industrial waste with dangerous pollutants from small and medium-scale units were being released into the river near Navi Mumbai
Ten members of the Common Effluent Treatment Plant (CETP) at Taloja were booked on Tuesday over release of untreated industrial waste into Kasadi River near Navi Mumbai.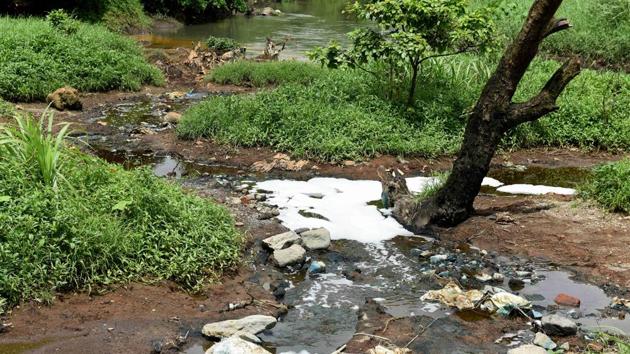 Industrial effluents from 347 small and medium-scale industries mostly comprising chemical, pharmaceutical and food processing are treated at the plant. State environment minister Ramdas Kadam and member secretary of the Maharashtra Pollution Control Board (MPCB), who visited the spot on November 9, found the CETP shut. Consequently, factories released effluents directly into the river, without treating them to remove dangerous pollutants.
"The effluents were directly being discharged into a creek that meets Kasadi River. The minister is disappointed with the state of affairs and wanted immediate action against the board of directors," said P Anbalagan, member secretary, MPCB. "Accordingly, we ensured a case was filed against them. The police will take further action."
The Taloja police said acting on a complaint by the sub-regional officer of MPCB, they have filed an FIR against the ten members under Indian Penal Code (IPC) sections 277 (fouling water of public spring or reservoir), 278 (making atmosphere noxious to health), 432 (mischief by causing inundation or obstruction to public drainage attended with damage), and 34 (acts done by several persons in furtherance of common intention). HT has a copy of the FIR.
"Our officers are visiting the CETP. We are consulting the MPCB officials to help us identify the violations. Once there is enough evidence, we will arrest the members named in the FIR. We have been told the plant was shut, and if our investigation reveals the same, we will arrest them," said Ravindra Budhawant, senior inspector, Taloja police station.
The director of Taloja CETP and board member SN Karkun told HT he was travelling and not aware of the FIR. "I have heard about it, but have not seen it. I can't comment until I see the papers," he said adding, "I need to speak to the chairman and vice-chairman of the board before commenting."
Members of a city-based NGO Watchdog Foundation, who have filed several complaints about the pollution since 2015, said MPCB officials were equally at fault. "In this case, action has been taken only after a top minister visited the plant. It is clear that the pollution board and CETP officials were both complicit. They should be pulled up for dereliction of duty. Activists have been filing several complaints but no action has been taken," said Godfrey Pimenta, trustee, Watchdog Foundation.