Maratha outfits announce chain hunger strike from August 15 across Maharashtra
Different groups of protestors will take turns to sit on hunger strike outside offices of district collectors and tehsildars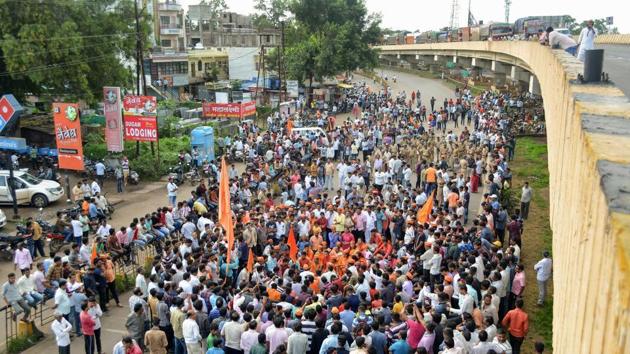 Updated on Aug 11, 2018 01:13 AM IST
After parts of Maharashtra burned during the state-wide bandh called by Maratha outfits on August 9, the community's spokespersons have claimed that incidents of violence are attempts to defame them. The protestors have threatened to go an a chain hunger strike from August 15.
Vinod Patil, state coordinator of Maratha Kranti Morcha, said, "We demand a probe into the attack at MIDC Walunj. We strongly believe that the attackers were not Marathas and this was done by some miscreants. The police can check CCTV footage and arrest all those who found involved in the attack."
Sanjiv Bhor Patil, another state coordinator, said that in addition to the demand for 165 reservation, the community also wanted the government to withdraw cases filed against protestors.
"We also want the government to withdraw serious charges imposed on community members for protest held last month. If government doesn't withdraw the cases as early as possible, then we may again have to come on the roads," Patil said.
On Thursday, agitators in Pune, Aurangabad, Latur, Nagpur and Hingoli were seen damaging vehicles, blocking roads and throwing stones. Pune Police arrested 194 people, including juveniles. At MIDC Walunj, which is approximately 12 kilometres from Aurangabad city, corporate offices were attacked by mobs and five vehicles were set on fire.
To show they have taken note of the violence being done in their name, Maratha outfits have decided to start a chain hunger strike from August 15. Different groups of protestors will take turns to sit on hunger strike outside offices of district collectors and tehsildars across Maharashtra.
"We have decided not to hold any agitations on road giving no chance to anyone to create violence in the name of Marathas. The community is known for its disciplined silent marches, which is being defamed for the violence done by some miscreants. We have also decided to hold chain hunger strike outside divisional commissioner from August 15 in case our demands are not met," said Shantaram Kunjir, a coordinator from Pune.
Meanwhile, a delegation of Dhangars led by member of Parliament Vikas Mahatme met chief minister Devendra Fadnavis and demanded the quota for Dhangars be increased from 3.5% to 7%. Fadnavis has said that the state will make recommendations to the Centre after Tata Institute of Social Sciences (TISS) submit a report by the end of the month. The state government has asked the TISS to study whether the demand of the Dhangar community is justified.
Close Story
Personalise your news feed. Follow trending topics