Mumbai colleges give lessons to students, citizens on plastic ban
In the past one week, several colleges have conducted workshops on their campus as well as outside the campus with the help of their NSS cadre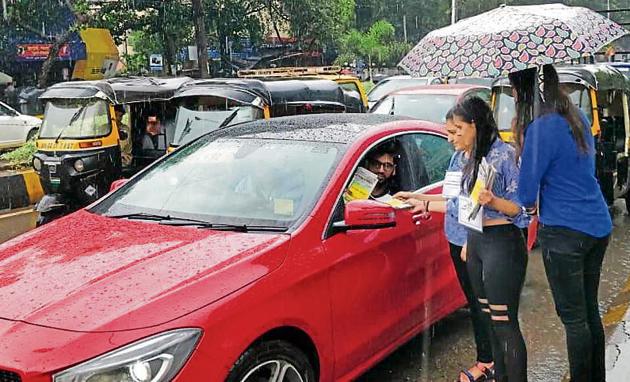 Updated on Jun 25, 2018 12:02 PM IST
The newly-imposed ban on plastic across Maharashtra has led to much confusion among citizens. To quell these doubts, several groups are organising awareness programmes in the city and joining them are a host of colleges.
In the past one week, several city colleges have conducted workshops on their campus as well as outside the campus with the help of their NSS cadre. The hope is to reach out to a larger audience, starting with their own students.
"If we cannot reuse it, refuse it, is our motto. And now that the Maharashtra government has taken this great initiative, why should we fall back?" said Rajpal Hande, principal of Mithibai College, Vile Parle.
On Saturday, the day a blanket ban on plastic was imposed in the state, staff and students of the biochemistry department of the college distributed paper bags to college students and outsiders.
"This is just the first step. We will continue spreading awareness about this topic and help people with alternatives to plastic bags," Hande added.
RD National College, Bandra, has been strictly against the use of plastic bags on campus and has been following it strictly for the past years now. With the ban in place, the college has formed a team of staff and students who have been put on work to ensure zero tolerance to any plastic items. "For years we've been segregating the waste in college and a special section was kept for plastic waste. Now a team of vigilators will keep an eye out in college and make sure that students or staff members don't carry any plastic items. We'll also conducted awareness programs to help students understand the importance of this policy," said Dinesh Panjwani, principal.
Awareness campaigns and workshops are the most common sight across colleges are present. With admissions going on in full force at all institutes, colleges are also using this period to reach out to maximum audience.
"Students visit colleges with parents so any form of awareness campaigns held in this period will have a better impact," said Naresh Chandra, principal of Birla College in Kalyan. For starters, the college has replaced all plastic items with alternatives in order to give out a clear message to all. "No plastic garbage cans, no plastic water bottles, even plastic chairs will be replaced soon," he added.
Close Story
Personalise your news feed. Follow trending topics