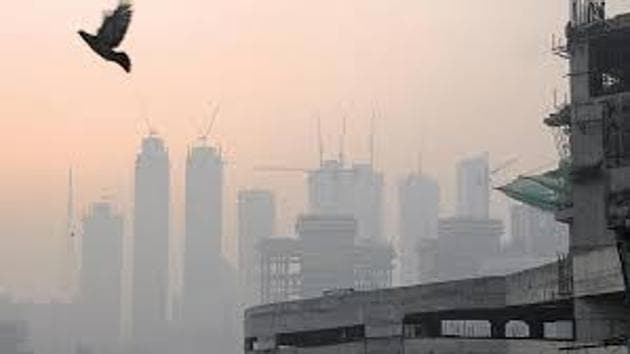 Mumbai is breathing a large amount of harmful pollutants, shows ministry report
Seven town and cities in Mumbai Metropolitan Region have topped the all-India list of harmful air pollutants for two years in a row
Hindustan Times | By Badri Chatterjee
, Mumbai
UPDATED ON APR 02, 2018 02:33 PM IST
From 2014 to 2016, seven major towns and cities around Mumbai, majorly home to industries, had the highest concentration of two harmful air pollutants -- sulphur dioxide (SO2) and nitrogen dioxide (NO2) -- in India, according to a report submitted by the Union Ministry of Environment, Forest and Climate Change in Rajya Sabha earlier this week.
The report identified Nanded, Dombivli, Ambernath, Badlapur, Ulhasnagar, Thane and Bhiwandi, apart from Pimpri-Chinchwad, Pune, Ghaziabad, Dehradun, Jamshedpur, Delhi, Kolkata, Barrackpore, and Faridabad, as most polluted towns and cities, with the highest levels of SO2 and NO2.
While sulphur dioxide is produced from burning of fossil fuels (coal and oil) mostly by industries, nitrogen dioxide is emitted from cars, trucks and buses, power plants and off-road equipment.
"Both the pollutants can have adverse effects on the respiratory system. The long-term effects include asthma, bronchitis, chronic obstructive pulmonary disorder (COPD), especially among children, and the elderly," said D Saha, former additional director, Central Pollution Control Board (CPCB), who analysed the study. "The Maharashtra Pollution Control Board (MPCB) needs to monitor the industries mentioned in the report for air pollution norm compliance. A 500-m buffer zone needs to be created in residential areas too."He said the concentration of air pollutants in Mumbai started to rise during the 2007-2012 period.
"However, as all industries and mills have been phased out, they don't pose a threat to the country's financial capital as much as particulate matter," said Saha.
MPCB said their action plan to tackle harmful air pollutants for smaller towns and cities was almost ready. "Last year, the Indian Institute of Technology, Bombay (IIT-B) was roped in to carry out a source-apportionment study of all cities and towns from Maharashtra that find a mention in the report. The draft plan is ready and we are finalising it," said P Anbalagan, member secretary, MPCB, adding it will take a minimum of two years to improve the air quality in these areas.
Once the action plan is released, industries that need to adopt clean fuel on priority basis will be identified, while others will be instructed to change their amount of daily production to meet the emission standards.
Large-scale industries will be asked to reduce their use of polluting sources such as coal and thermal, and shift to renewable sources of energy, said Anbalagan.
"We have the example of Navi Mumbai, where 50-60 industries have shifted from coal to compressed natural gas (CNG), thereby improving the air quality of the area significantly. We had issued a statutory direction to them, and we expect to replicate this in these towns and cities," he said.
The state government officials said even though pollution levels cannot be brought down to zero, there is room for improvement from MPCB. "There needs to be stricter compliance from industries. There might be several action plans, but unless there is on-ground implementation, the situation won't change. MPCB needs to ensure their officers are more vigilant, and take action against erring industries. As of now, there is a lack of diligent and honest implementation," said Satish Gavai, additional chief secretary, state environment department.
Close