Mumbai youth lead from front in flood relief ops for other states
Students help raise funds, collect supplies for flood-affected areas.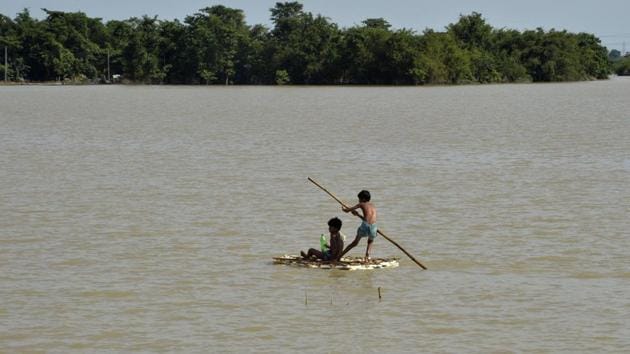 Updated on Aug 21, 2017 09:34 AM IST
As floods wreak havoc in several states in the country, students in the city are doing their bit to help those in distress. While some are raising funds, others will be sending clothes and other essential supplies. Some students are even planning to visit the flood-affected areas to work as volunteers.
Around 1.2 crore people have been affected by one of the worst deluges witnessed by the country in recent years. The number of deaths due to the flood in Bihar rose to 153 on Sunday, while over a crore people have been marooned in 17 districts. In Assam, 11 people died in flood-related incidents. Nearly 15 lakh people have been affected by the floods in West Bengal since last month.
Mukhlis Aalam, a student at Tata Institute of Social Sciences, who hails from Araria, one of the worst affected districts in Bihar, said that a group of students who hail from Bihar are doing relief work in various capacities.
"Earlier, the water level was very high, but now it's receding. We are transferring money from Mumbai and other cities to volunteers on the ground, who then purchase medicine and water and supply for them. Boats and banana rafts are being used to reach people," he said, adding that a few students from Mumbai will soon go to the flood-affected areas.
Another group of students in TISS has also planned to collect money and clothes from the students at the institute. "We will assign responsibility to students to collect donations from their classrooms. We will also put up a donation box in the institute. We plan to complete the fund raising drive within a week," said a student.
Student organisations such as All India Students Association (AISA) and Students Islamic Organisation of India (SIO) are using their nation-wide network of activists for relief work.
SIO recently held a fund-raising drive in various parts of the city. The organisation held gatherings, classroom announcements, and donation boxes placed in college campuses to raise funds. The SIO activists also arranged for fund raising after Friday prayers in mosques.
"After a survey of the affected sites, our activists identified the most affected areas. The surveying team has devised a few disaster relief strategies and has listed down the requirements from various areas. To meet these requirements, we collected money from across the city," said Simab Khan, city secretary, SIO.
The students, however, said that owing to little awareness about the calamity in the city, raising money was not an easy task. "The deluge hasn't been covered extensively in the media. As a result, the people think it's the usual flooding, when in fact the situation is much worse," said Alam.
Close Story
Personalise your news feed. Follow trending topics