Mumbaiwale: Can you see past the clichés?
To see the Mumbai beyond the stereotypes, switch off your screen and take a close look at reality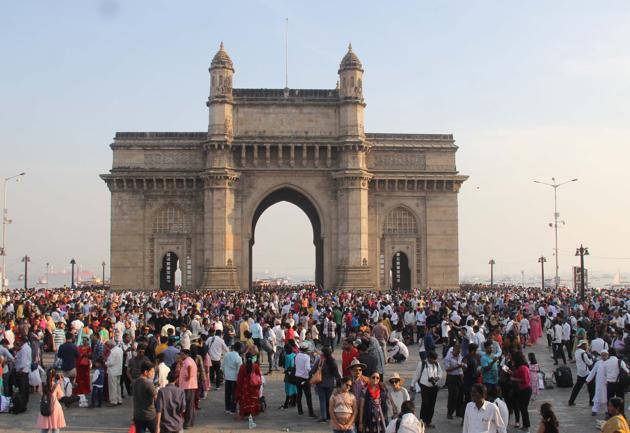 Updated on Apr 22, 2019 08:38 AM IST
Here's what irks me about Mumbai: so much of our love for it is wrapped up in clichés, nostalgia, and souvenir-store stereotypes. The #MumbaiMeriJaan hashtags on Instagram are overwhelmingly for the tiny patch south of Crawford Market. We can't think beyond Marine Drive panoramas, #CityOfDreams, Bollywood, dabbawalas, auto rickshaws, vada-pao, sexualized Koli fisherwomen and night shots of the sea link.
So when Kaiwan Mehta, architect, academic and researcher, asked me to write ten essays about the city for an art exhibition and specifically wanted to focus on the new, I was delighted. The show, The Shifting City, views Mumbai as the place that marks one's arrival, and makes you feel like 'you've arrived' on the success scale too. What happens then unfolds through sketches by artist Sameer Kulavoor, images by photo journalist Ritesh Uttamchandani and written work by me.
The exhibition sits alongside an international show Making Heimat. Germany, Arrival Country, which imagines what a city should be like for migrants to feel at home. The two displays are starkly different. Mumbai has been accommodating wave after wave of settlers for so many centuries, adjustment isn't part of life; it is the life.
Here's part of one essay, As Seen On Screen, which looks at the Mumbai's depiction on pop culture and the reality beyond the projection.
For almost a century, Indians have looked at screens and found a city where dreams come true. It's merely a projection— a land viewed through the beauty filter of privilege, nostalgia and carefully cultivated cliché. In this Bombay and Mumbai, kids come of age in St Xavier's College's Gothic-revival hallways. Everyone falls in love over bun-maska-chai at Irani cafés. If it is an office, it must be a picturesque 21st-floor glass-walled corner, with BKC's shiny skyscrapers reflecting sunlight back and forth into infinity.
On screen, there's always room — the promenades are empty, there's a free seat on the bus, you'll find parking, your 1BHK has a balcony, and the restaurant takes reservations for Saturday. Even on Instagram, urban poverty is a photo-op: a nice accompaniment for that quote you Googled about resilience.
To see the city, step out of the frame. And watch where you're stepping. You might land on someone's foot.
The colleges and cafés are full. The queues to share an autorickshaw from a suburban station take 20 minutes of waiting every single evening. If your 1BHK has a balcony, this is most likely where the washing machine, the kid's tricycle, the yoga mat and the folding stepladder is stored.
The promenades are filled with 18-year-olds holding their birthday parties (cake, balloons, gifts, birthday bumps and all) in full view of evening walkers at the only spots where it's still free and comfortable to chill. The majority of Mumbai workplaces box-up the corner offices, so only the top management gets to look out the window – at another office building.
On Instagram, the most common use of the hashtag #Mumbai is by amateur models and fitness types rather than for photographs of the city. Because no one's really looking around as much as they're looking at themselves.
And you'll realise that arrival does not mean familiarity. It's not unusual for citizens, who've lived for years in Mumbai, to have never seen the landmarks they saw bright-eyed on screens before they arrived here. They've never visited the
Gateway Of India, driven down the sea link, headed over to Juhu beach for chaat, or taken a first-hand look at Powai. In a sense, they're neither tourist nor insider - forever on the outside, looking in.
The Shifting City is on view at the Max Mueller Bhavan gallery, Kala Ghoda until May 26. Monday to Saturday 11am-7pm.
Close Story