Politicians gang up to sack Navi Mumbai civic chief popular with residents
Municipal council passes no-trust move against Tukaram Mundhe; it's now up to CM Devendra Fadnavis to accept or reject the motion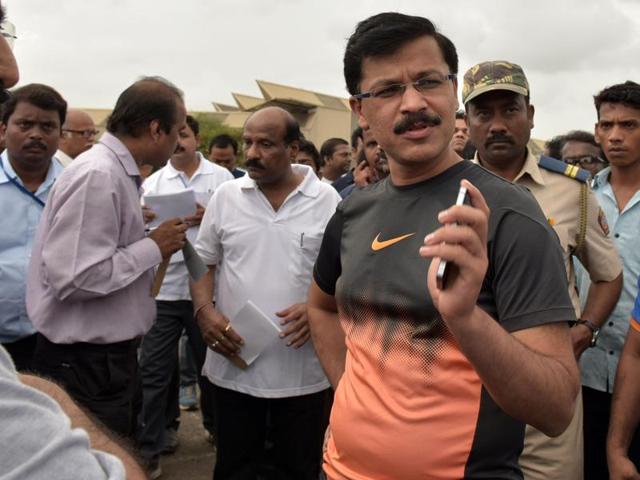 Updated on Oct 25, 2016 01:30 PM IST
Hindustan Times | By G Mohiuddin Jeddy
, Navi Mumbai
Politicians from all parties expect the BJP got together on Tuesday to pass a motion of no-confidence against the commissioner of the Navi Mumbai Municipal Corporation (NMMC) Tukaram Mundhe, who won plaudits from ordinary residents for his strict action against encroachers and hawkers but fell foul of corporators for sticking to the rule book.
It is now up to chief minister Devendra Fadnavis to accept or reject the motion.
The motion, proposed by the NCP, Shiv Sena and Congress, was passed 105-6, with only the 6-member BJP in the 111 member house opposing it.
While calling the motion, the parties accused Mundhe of not giving respect to elected representatives, insulting them, taking arbitrary decisions and acting in an authoritarian manner.
The no-confidence motion proposed last week got several residents and activists coming out in support of Mundhe, seen as an honest officer who acted against illegal constructions and corruption in the civic body. 'Support Mundhe' messages have gone viral on social media, with residents alleging the politicians were pursuing vested interests.
Tuesday's motion was introduced by NCP house leader Jaywant Sutar and seconded by the Sena's standing committee chairman Shivram Patil. While BJP members, led by its city chief Ramchandra Gharat, demanded they be allowed to speak, the motion was put to vote by mayor Sudhakar Sonawane of the NCP.
After the house voted in favour of the motion, Gharat again asked that he be allowed to speak. Sonawane, however, refused, saying he was wasting the time of the house. It was only after opposition leader Vijay Chougule of the Shiv Sena intervened was Gharat allowed to speak.
The daylong proceedings are expected to have corporators across party lines speaking out against Mundhe, who was also present at the meeting.
On Monday, following reports of residents planning to gather at the NMMC headquarters in CBD Belapur, the police clamped IPC section 144 in a 100 m area around the headquarters to bans any gathering in the area.
Assistant commissioner of police Dhanraj Daima said, "Action will be taken against those who gather in the area either to support or oppose the motion. There can be no sloganeering or canvassing or attempt to influence."
Close Story