Pollution in three Maharashtra rivers nine times over permissible limits
Nov 16, 2017 11:57 PM IST
In October, HT had reported that Maharashtra has the most polluted rivers in the country, according to a central government report
Maharashtra's highly polluted rivers require concerted efforts to improve water quality, said environmentalists.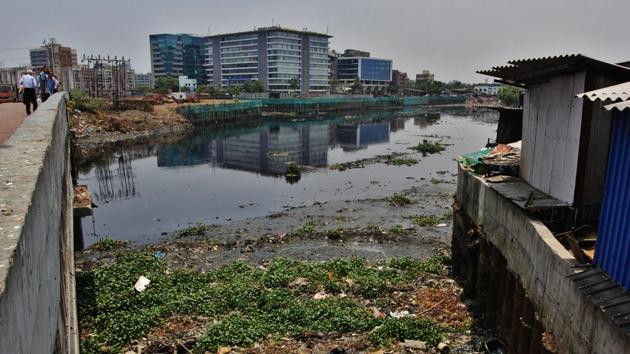 A right-to-information (RTI) response to non-governmental organisation (NGO) Vanashakti by the Central Pollution Control Board (CPCB) revealed that pollution levels in three rivers — Mithi in Mumbai, Mula in Pune and Kundalika in Roha, Raigad district — were nine times higher than acceptable limits.
According to the Maharashtra Pollution Control Board's (MPCB)'s monthly water quality bulletin, Mithi has recorded BOD (biological oxygen demand) of 250 and above between January and May. High levels of BOD indicate concentrated untreated sewage.
Unpolluted rivers have a BOD below 1 mg/litre while moderately polluted rivers have a BOD between 2 and 8 mg/L. Untreated sewage averages between 200 and 600 mg/L, while treated sewage has levels of 20 mg/L or less.
"Along with human activities, various microbiological agents such as bacteria, viruses and protozoa also pollute water and may cause diseases," said Stalin D, director, NGO Vanashakti, who filed a petition in the Supreme Court to ensure that pollution levels at the river reduce and restoration work begins.
"There needs to be serious commitment from the state environment department, pollution control bodies and the chief minister to get our rivers back," he said.
In October, HT had reported that Maharashtra has the most polluted rivers in the country, according to a central government report.
A report by the Union environment ministry found at least 3,000 million litres of untreated sewage and industrial effluents are discharged into the state's water bodies daily.
It also found that Maharashtra had 49 polluted river stretches, including Mithi, Ulhas, Vaitarna, Godavari, Bhima, Krishna, Tapi, Kundalika, Panchganga, Mula-Mutha, Pelhar and Penganga.
MPCB officers said the CPCB's directives have helped reduce pollution levels at Mula and Kundalika significantly, but efforts are still needed to restore the Mithi.
"Along with the Pune Municipal Corporation, local authorities at Roha and the Maharashtra Industrial Development Corporation, we can confirm that pollution levels have declined at Mula and Kundalika. They are no longer considered priority 1 polluted rivers," said YB Sontakke, joint director, water quality, MPCB. "However, the sheer quantum of sewage generated in Mumbai makes Mithi the most polluted currently and it is imperative to set up more sewage treatment plants (STPs) to improve water quality over the next year," he said.
Mithi, which is around 15-km long, starts from Powai and ends in the Mahim creek after coursing through Kurla, Saki Naka, Kalina and Vakola. The river has been reduced to a nullah, where sewage, garbage and industrial waste is dumped. According to experts, nearly 54% of the original riverbed has been lost to encroachments, roads and development.
According to MPCB, Mumbai generates 2,500 million litres per day (MLD) sewage, of which 600 to 700MLD enters Mithi without treatment. "We have developed a detailed project report of the sources of pollution, locations where STPs are required and housing societies where sewage must be treated at the source. Research organisations have helped us prepare the report, which will be shared with BMC to be implemented," said Sontakke.
Mula River rises in the Western Ghats, and after the dam that forms the Mulshi Lake, it flows into Pune, where it merges with the Mutha. Pune generates 700 MLD of sewage, of which 600MLD is being treated and 100MLD is discharged directly into the rivers, said officials.
"Following our analysis, we tied up with more than 200 housing societies in Pune to install STPs at the source, so the amount of domestic waste is curtailed. At the same time, common effluent treatment plants (CETPs) were set up to reduce industrial effluents. While a major quantum of sewage is now being treated, the installation of a few more STPs will improve the water quality significantly," said Sontakke.
The Kundalika River originates 150 km south of Mumbai from Bhira and passes through industrial towns such as Roha. Most of its pollution comes from industrial wastes. "Less than 100MLD of sewage is generated by small towns along the river. Notices were sent to industries that were not treating waste adequately. While 36 industries were shut for non-compliance, the remaining treated wastewater successfully," said Sontakke.
He added that only 2-3 MLD sewage enters the river without being treated.
Water quality status of most polluted rivers in Maharashtra
SAFE LIMIT: Water bodies having BOD more than 6 milligram per litre (mg/l) are considered as polluted and identified for remedial action
(Source: Central Pollution Control Board)
In India: Sewage generation in urban areas and available treatment capacity