Snag-hit IndiGo admits that it grounded A320neo aircraft
On Wednesday, Ahmedabad-Kolkata (6E 135) flight made a a precautionary landing after one of its engines allegedly stopped working mid-air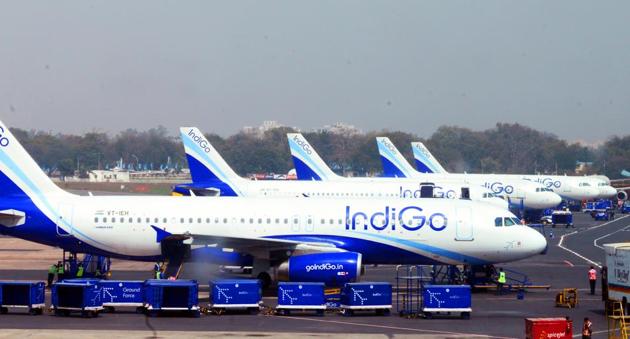 Updated on Aug 22, 2017 11:24 AM IST
Hindusatn Times |
, Mumbai
Neha LM Tripathi
Looks like IndiGo's new Airbus A320neo fleet is failing to help it better the services.
Sources said of the 22 aircraft, the airline has grounded 13. Most of the fleet has been grounded in Delhi. But the airline refuted the claims and said only nine planes had developed technical snags.
On Wednesday, Ahmedabad-Kolkata (6E 135) flight made a precautionary landing after one of its engines allegedly stopped mid-air. The plane was diverted to Nagpur and landed safely.
Sources said the engine had developed a snag, but was repaired successfully.
"Since the aircraft has a twin engine, it landed safely. But it is a matter of concern. The management has remained tightlipped about the reason behind the engine failure," source added.
Commenting on the issue, IndiGo said, "Regrettably, there have been days when we have had to ground as many as nine A320neo (planes) owing to the lack of spare engines. While we do receive certain compensation from Pratt & Whitney (the makers of the engine) for these groundings, the operational disruptions are quite challenging and we are not happy with that situation. Based on what we know today, it may be another year or so before the design changes are implemented by Pratt & Whitney which should allow these engines to have the on-wing flight hours that we expect from them."
Of the 150 planes, the airline received its first batch of neo aircraft in March 2016. Besides IndiGo, Go Air is another airline that uses A320neo. But none of their planes have faced issues .
"We are aware of the recent reports regarding the Pratt & Whitney-powered Airbus A320neo fleet. As we have communicated previously, the durability of the engine's entry-into-service configuration is being improved. We understand that the issues experienced to date have disrupted our customers' operations. We are working hand-in-hand with them on a daily basis to address their [IndiGo] in-service fleet issues," said Pratt & Whitney.
Close Story
Personalise your news feed. Follow trending topics