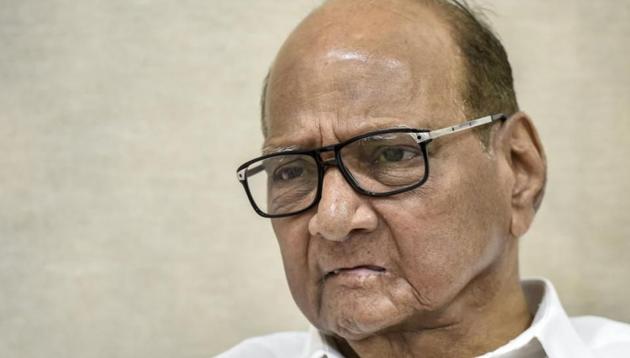 Sharad Pawar to chalk out plan for Assembly polls in Mumbai
NCP chief on tour of drought-hit areas; to meet MLAs, MPs and leaders in Mumbai on Sat urday
PUBLISHED ON MAY 03, 2019 01:27 AM IST
With the Lok Sabha elections over in Maharashtra, Nationalist Congress Party (NCP) chief Sharad Pawar wants the party to start preparations for the state Assembly elections scheduled five months later.
As the first step, the party chief will hold a meeting of his MLAs, MPs and district presidents at YB Chavan Centre in Mumbai on Saturday. Lok Sabha election candidates, too, have been asked to be present. "Pawar wants to assess the party's performance in the general elections and the major issues in the state, especially the drought. Senior leaders will also deliberate on the strategy to be adopted to corner the Devendra Fadnavis-led government in the state," according to party leaders.
Pawar has also started a tour of drought-affected areas the day after the Lok Sabha elections. The NCP chief believes it can become an election issue in rural areas that comprises around half the 288 Assembly seats, said another NCP functionary.
NCP spokesperson Nawab Malik said, "Drought situation has become severe. The meeting is to discuss it and decide how to help affected people."
Both the Lok Sabha and Assembly elections are crucial for the Congress and NCP, considering their poor performance in the 2014 elections. The NCP could win only four seats in 2014 Lok Sabha polls, while in 2009, it won eight seats. The Congress and NCP had contested the polls together. The Assembly results will be crucial for the NCP's future in Maharashtra. The party has been away from power for five years and another term without power could prompt some of its leaders to defect.
In the 2004 Assembly polls, the NCP became the biggest party in the state, winning 71 seats, two more than the Congress. In 2009, its tally came to 62 and in 2014, it lost 21 seats, reducing its tally in the state to 41. The Congress-NCP, the alliance that ruled the state for 15 years, had also split just ahead of the 2014 Assembly polls, despite a debacle in the Lok Sabha elections. This time, both the parties have contested the Lok Sabha elections together and are expected to continue the alliance for the Assembly elections. "Despite losing badly in 2014, the NCP managed to win 41 seats in the Assembly elections held the same year. If we perform well in the general polls, we can make a comeback in the Assembly elections," he said.
Close