Students abandon plan to disrupt TISS convocation, opt for peaceful protest instead
Students have been protesting the cancellation of hostel and dining hall fee waivers.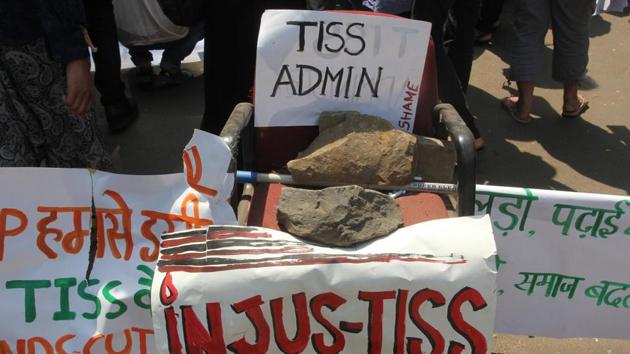 Updated on May 07, 2018 11:46 PM IST
Hindustan Times |
, Mumbai
Shreya Soni
Days after students threatened to disrupt the annual convocation ceremony of the Tata Institute of Social Sciences (TISS), the event took place without any hassle on Monday. Students opted instead to a non-violent protest against the withdrawal of fee benefits for marginalised communities. One student reportedly declined the degree certificate awarded to him by the institute, at the convocation held on May 7.
On Sunday, the institute's registrar sent a circular to all students, requesting them to allow the convocation to be held peacefully. "It is advised that any noisy demonstrations and attempt to stall the convocation will be viewed very seriously in accordance with the law and as per the orders of the Hon City Court of Mumbai, dated April 2," read the circular.
"We gathered with our charter of demands and posters for a peaceful demonstration," the official statement issued by the protesting students, mentioned. They came to this conclusion through a general body meeting held on May 6. Protesting students gathered outside the convention centre, where the annual convocation was held and handed out solidarity badges with #injusTISS written on them. Many posters with the students' pleas and demands hung in the background.
A group of TISS students have been protesting the cancellation of hostel and dining hall fee waivers given to those belonging to scheduled castes (SC), scheduled tribes (ST) and other backward categories (OBC). A notification issued by the institute requires the upcoming batch to pay a part of their fees for the academic year 2018-19 upfront. While SC and ST students will have to pay ₹12,500 towards hostel and dining hall charges, OBC students have to pay ₹30,700.
"The convocation went peacefully. There was no disturbance by the students. We will look into the matter after the convocation is over, "said Shajahan PK, dean, student affairs. The institute confirmed that one student had declined to accept his graduation certificate. The convocation is a two day affair and ends on May 8.
Close Story