Twitterati slams matrimonial website for 'objectifying' brides
Published on Jan 29, 2018 11:06 PM IST
#changehernot was used more than 8,300 times on Monday to slam the website mysonikudi.com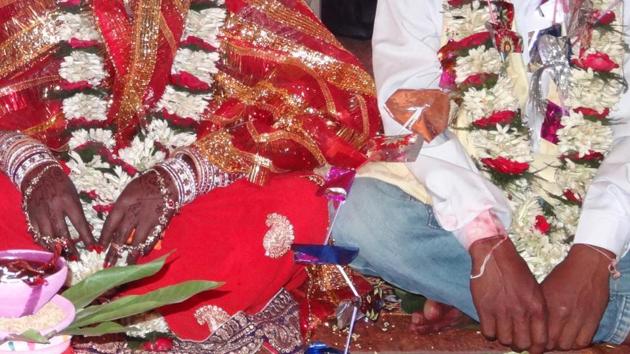 Hindustan Times |
, Mumbai
Yesha Kotak
Twitterati, on Monday, criticised matrimonial website mysonikudi.com for promoting women as commodities — 'brides who will meet all your demands!' At the time of the copy going to the press, #changehernot was used more than 8,300 times. A message sent to the portal owners on social media went unanswered.
The description for brides on the website reads: "Our dream was simple – to offer only the best brides for your needs in a convenient, categorized and easy-to-pick website, whether you're the prospective groom or the mother-in-law." It adds: "We guarantee that our almost 'made-to-measure' brides will wow, astound and impress you, your son, your relatives and your neighbours!"
Read: Online 'friend' cheats woman of Rs7.5 lakh on pretext of marriage
The website has categorised brides into English speaking, agyakaari, bride school trained, motherly, sanskari, slim, NRI ready and fair skinned, among 12 other criteria. Testimonials on the website thank the portal for its 'free' service and providing the 'gift' of a bride.
"I wish to thank MySoniKudi admins for this wonderful site. It's a great, given it's all for free. So many girls' profiles that are low maintenance and Gharelu. Our family met with each other and our marriage got fixed. She is very Sanskaari. Aisi ladki laakh dhoondhne par bhi nahi mile. (would have never been able to find such a girl) My mother is very happy. Thanks again, (sic)," reads a testimonial.
Seeking a ban on the website for objectifying women, Twitteratis slammed the website for its disgusting approach.
Shraddha Verma, a media personnel, tweeted, "This is like an E-com website for bride-shopping. Literally. This is disgusting! #ChangeHerNot @MySoniKudi."
Read: Daughter plays matchmaker for her widowed mother
Gul Panag, actress and activist working towards gender equality, said the website made her cringe. "So, a portal that has brides on display. Pick from Sanskari, Agyakaari, NRI-ready, etc! If this doesn't make us cringe, what will? Why is it expected out of women to fit into these 'types'? Do we really need to change just to get married? #ChangeHerNot," Panag tweeted.
This comes almost three months after thousands of women across the world shared their personal stories through the #Metoo campaign, a week after sexual abuse accusations were levelled against Harvey Weinstein, an American film producer. Post which, Oprah Winfrey, an American talk show host, praised women who came forward with their #MeToo stories, in her Golden Globes award acceptance speech.