Marathwada: Long wait for water to get worse
The cattle shelters (chavnis) in Beed, Latur and Osmanabad districts are also given water on a priority basis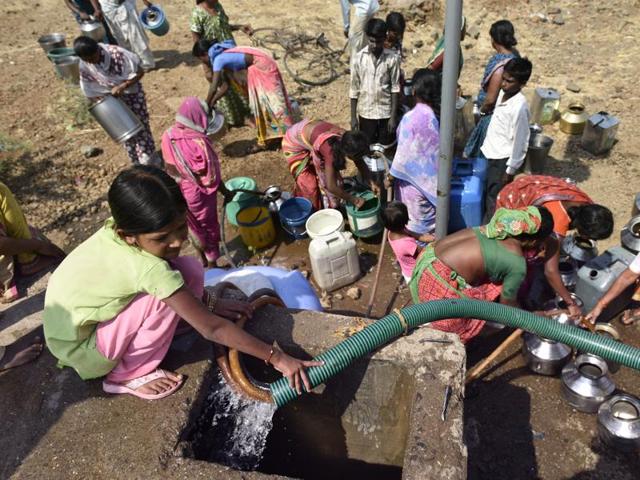 Published on Mar 28, 2016 01:34 AM IST
It's just after 9am in Takalsing village, 15 km north of Asthi Tehsil headquarters in Beed district, when suddenly men, women, children start stepping out of their homes with buckets, pots and pans in hand. They have heard the water tanker, which is still a kilometre away.
People sprint to the lone concrete tank in the middle of the village, where the tanker will offload its precious cargo. As the water flows, people bend over the tank walls to fill their vessels and hurry home to come back for more. The water runs out very soon. This is the routine not just in this village of some 3,000 residents. Most of the 7,500 villages in Marathwada, spread across eight districts, are starved of water and government officials stress that it's going to get worse in the next two-three months.
"We have just about 4.83 per cent water remaining in our reservoirs and dams," says Umakant Dangat, revenue divisional commissioner (RDC) who operates from Aurangabad city. These dams and reservoirs number 900, but, barring Jaikwadi and Majalgaon dams, hold no water. Even in those two dams, the dead stock, sources say, has fallen below 2 per cent, though officials inflate the figure of drinking water reserve to more than 4 per cent by counting the water sourced from private borewells.
"The government figures are only good on paper. In reality, the drinking water situation is grim," says Santosh Manurkar, who edits the local daily Zumjar Neta.
Dangat, meanwhile, claims the government has made provision to ensure at least 20 litres of potable water per person (a day) in the drought-hit areas by hiring 2,378 private water tankers, that are doing roaring business in the unprecedented crisis situation. The government has also acquired 5,192-odd borewells. But the numbers continue to fall as many of those are drying up fast.
Moreover, the cattle shelters (chavnis) in Beed, Latur and Osmanabad districts are also given water on a priority basis. The government also pays up to Rs70 a day for fodder for each head of cattle. In Beed alone, there are more than 8.5 lakh heads of cattle in 250 chavnis.
Back in Takalsing village, spread over 30 hectares, almost all wells and borewells dried up six months ago. Tankers remain the only source of water. Three successive years of poor rainfall have left the villagers totally dependent on government rations of food grains and pulses and of fodder for cattle.
Some 125 km away in the Beed district headquarters, collector Naval Kishore Ram is a worried man. "For the last 3 years, it's rained just about 49 per cent of the average 666 mm annual rainfall," he says. Tasked with ensuring water for a population of more than 27 lakh in the district, he plans to intensify surveillance on distribution of water by setting up a war room from March 31. "Every tanker has been fitted with GPS device to monitor their activities," Ram adds.
However, a visit to Jogdand Basti, a dalit hamlet on the outskirts of Takalsing village, unfolds another facet of deprivation amid claims of fairness even during a crisis situation. "While Takalsing village, comprising mostly upper caste people, get six tankers of water (180,000 litres) every two days, we get just about one tanker in 8-10 days," claims Akshaya Jogdand, who is pursuing Msc in Chemistry from Marathwada university. With handicapped parents and no alternative sources of income, Akshaya does some odd jobs to run the household, apart from the Rs1,000 scholarship he and his younger sister Bharati, who is pursuing Bsc, each receive every month. "Had it not for the borewell which gives some water, the 20odd families would have migrated long ago.
Valmik Nikhalje, lawyer and human rights activist from Asthi, says the government should not be complacent after announcing relief measures." There should be constant monitoring of the state largesse so that people actually benefit," he adds.
Close Story