The legend of Kishore Kumar: Why he remains relevant even today
Updated on Oct 13, 2016 12:36 PM IST
On his death anniversary, HT takes a look at what was the magic behind the legend of Kishore Kumar.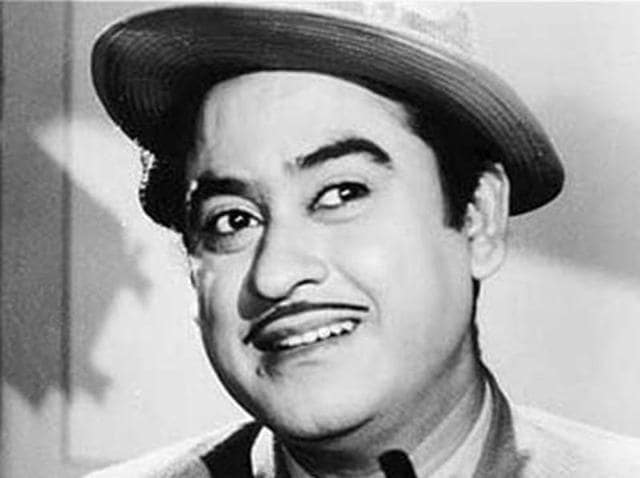 Hindustan Times |
Nivedita Mishra
What does one write about an icon about whom so much has already been written? Switch any FM radio station and you are sure to hear one of the many memorable melodies of the Kishore Kumar-RD Burman era. Listening to the RJs of today, it does surprise how just about everyone ends up calling the legendary singer Kishore da, as if he were a contemporary. It does make one wonder how a singer who began his career way back in 1946 (he was a chorus singer with Bombay Talkies) continues to be listeners' favourite even today. More so, when the youth has access to all music from across the world, thanks to the internet.
His music
There are singers and then there is Kishore Kumar. While, there is no doubt that the crop of artistes who came immediately after India's independence were top-notch, but Kishore was something else.
As an unschooled singer who had no classical training, he was never entertained by the top music composers of the day. Yet the power in his voice, its "contemporariness" and the sheer joy and energy it echoed with, worked wonders. He was, in effect, the voice of the young-at-heart. There was always so much fun in his singing. It was urbane, it was cool.
However, his music reached its zenith in the 1970s when the formidable quartet of RD Burman, Anand Bakshi, Rajesh Khanna and Kishore Kumar could do no wrong. Kishore's singing took on myriad shades, weaving in pain, romance, joie de vivre and a rare emotional energy. Small wonder he is so popular with the youth. In short, he was a singer for every occasion, for every emotion.
This guy made madness fashionable
Much of Kishore's genius comes from his unpredictable personality as an actor-singer he was crazy mad. Watch him fooling around Chalti Ka Naam Gaadi - sometimes flirting, sometimes bumbling along and it will be clear that Kishore had an easy air about him.
He could be plain mad if he chose to be... watch him sing a duet (he sang both the male and female version!) and play a woman in Aake Seedhi Lagi starring actor Pran and him in the film Half Ticket.
Can you imagine anyone else pulling off the music teacher act in Padosan other than Kishore? This man could jump, dart and leap around a gay abandon.
Kishore made "comic hero" famous much before the likes of Amitabh Bachchan appeared on the Bollywood firmament. Don't believe us? Just watch him in this song from Naughty Boy opposite Nutan. Or watch him serenade Sadhna in Zaroorat Hai Zaroorat Hai Eik Shrimati Ki and you'll know what we mean.
And, oh that buffoonery! Watch him sing Eena Meena Deeka in case you have any doubts.
Prolific singer
For a man who had no classical training, Kishore went on to be one of the most prolific singers in Indian popular music industry, singing songs in Bengali, Marathi, Assamese, Gujarati, Kannada, Bhojpuri, Malayalam, Odia, Urdu apart from Hindi, of course.
A story goes that as a child growing up in his native Khandwa, Madhya Pradesh, Kishore met with an accident and injured his toe. Following that he kept crying for a month, which did wonders to his voice! Narrating this incident, his elder brother actor Ashok Kumar would say that Abhas (that was the name his folks gave him) would never have become a singer had it not been for that toe knock.
Kishore came to Mumbai (then Bombay) to try his luck in films as both his brothers, Ashok and Anup, were actors. While Ashok wanted him to be an actor, Kishore was more interested in being a singer and wanted to sing like his idol, KL Saigal. Though he tried his luck with all big names in the industry, nobody seemed suitably impressed.
However, one the earliest music directors to take note of Kishore's talent was Salil Chowdhury. Initially dismissive of him, he changed his opinion on hearing his voice and gave him his first success when he made Kishore sing Chhota Sa Ghar Hoga in Naukari (1954) though the singer had made his formal debut back in 1949 with the song Marne Ki Duayen Kaun Kare from the film Ziddi, which had music by Khemchand Parkash.
However, it was SD Burman who nurtured Kishore's talent. Initially, Burman, too, wasn't very keen. But a visit to Ashok Kumar's home was an eye opener as he heard Kishore imitate Saigal.
Complimenting him for his impressive singing, the veteran music composer asked Kishore to develop a style of his own. Kishore would go on to be the on-screen voice of Dev Anand, to much success. The trio -- SD Burman, Dev Anand and Kishore - gave some of the most memorable songs of the era. The hit pair reached a crescendo with the resounding success of Aradhana. And it fetched Kishore his first Filmfare award too.
Kishore truly achieved staggering heights in the 1970s when he began his magical association with RD Burman and Anand Bakshi. First in the films starring Rajesh Khanna (Kati Patang, Amar Prem) and then as the voice of Amitabh Bachchan (Amar Akbar Anthony, Don, Muqaddar Ka Sikandar, Khoon Pasina, Kasme Vaade, Sholay) in late '70s, Kishore went on to reign supreme.
The man and his eccentricities
Perhaps, the burden of being a singer, an actor and an occasional composer, took a heavy toll on him. Kishore was a man given to eccentricities. He married four times and barring his last marriage to Leena Chandravarkar, all of them had their fair share of problems.
His first married Bengali singer and actor Ruma Guha Thakurta. Their marriage lasted from 1950 to 1958 but was never really a happy one.
Kishore's second marriage was with the reigning diva of the day -- Madhubala. His lacklustre first marriage, subsequent divorce, her disastrous affair with Dilip Kumar and the fact that they worked together in a number of films made them both happy. However, Kishore's family was dead against the match, as Madhubala was a Muslim. Kishore is said to have converted to Islam and reportedly changed his name to Karim Abdul. They then married as per Hindu rites to satisfy his parents but the union was never free of trouble. For one, Madhubala was diagnosed with ventricular septal defect (hole in the heart) and was to go to London for treatment even before their marriage. Within a month of the wedding, she moved back to her Bandra home as the atmosphere in the Kishore household was unpleasant. They were married from 1960 till her death in 1969. This was also the most painful period of his life.
He married Yogeeta Bali in 1976 only to divorce her two years later. When Yogeeta went on to marry Mithun Chakraborty, he temporarily stopped singing for the star. His fight with Amitabh Bachchan, too, is legendary. Kishore didn't sing for Bachchan in the mid-1980s after the actor refused to appear as a guest in the film Mamta Ki Chhaon Mein that he produced but called a truce by singing for him in Toofan.
Money mattered a lot. Kishore, it is believed, wouldn't sing or act till he was paid. He would start recording only after his secretary would confirm receiving the payment.
Kishore's madness knew no bounds. Once, a producer went to court to get a decree that the singer follow the director's orders. After that he would obey the director to the T. Once while shooting a car sequence he refused to alight from his the vehicle till the director ordered him to do so. After filming a car scene in Mumbai, Kishore drove on till he reached Khandala because the director forgot to say "cut".
Close Story
Personalise your news feed. Follow trending topics