Freedom 251: Rs 16 lakh payment lands Mohit Goel of Ringing Bells in custody
Feb 24, 2017 02:05 PM IST
Mohit Goel - man behind the cheapest smartphones - Freedom 251 - has been arrested by Ghaziabad police on Thursday night for forgery, criminal breach of trust, cheating and criminal conspiracy.
The Ghaziabad police on late Thurday night arrested Noida-based entrepreneur Mohit Goel, former managing director of Ringing Bells, a company which shot into limelight after announcing 'Freedom 251' - the cheapest smartphones priced at Rs 251 - over an alleged payment dispute.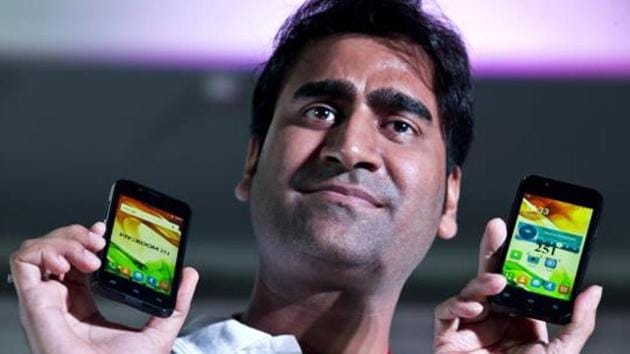 The charges against Goel, and four others, include those for forgery, criminal breach of trust, cheating and criminal conspiracy.
Read: Freedom 251 bookings closed, 7.35 cr phones to be delivered in 2016
The FIR by complainant Akshay Malhotra of Ayam Enterprises, a Ghaziabad resident and one of the distributors of the company, has named a total of five persons, including Mohit in his complaint. Malhotra said that a total of Rs 16 lakh payment was pending from the company as they could not deliver phones and accessories and kept on lingering the matter for nearly a year.
"So, I had to file the FIR. We gave them a total of Rs 30 lakh for distributorship for phones and accessories in December, 2015 when Goel was the managing director. Then, the agreement was signed and the amount paid in advance. Later, they delivered some goods which were not of proper quality," Malhotra said.
"However, due to delay in delivery, we asked them to return the amount. Nearly Rs 10 lakh was paid to us in two installments. They also gave us some goods which were valued around Rs 3-4 lakh. Finally, a total of Rs 16 lakh was pending which was never returned," he added.

Apart from Goel, the FIR also names present managing director and his brother, Anmol Goel, Mohit Goel's wife Dharna Garg who resigned eight months back as CEO of Ringing Bells, company's general manager Sumit Kumar, and Mohit's partner Ashok Chaddha. Chadha and Mohit are now officials of a new firm.
"Mohit was arrested while a search is on for other persons named in the FIR. They too will be arrested soon. There were talks between the distributor and Mohit for paying back the amount but, somehow, things could not materialise," said Manish Mishra, circle officer (city), Ghaziabad.
Mohit, on the other hand, said that he was ready to pay back Rs 16 lakh and the distributor was also keen to take back his payments and withdraw the FIR.
"The payments of several distributors were pending and we have promised to pay them by March 31. I still don't know what transpired. I was willing to pay back his payment and he was also ready. I don't know why police declined this. It is surprising that a couple of days back Noida crime branch gave us a clean chit and soon I am implicated in another case now," Mohit told HT.
He added that after an earlier FIR lodged in Noida by Bharatiya Janata Party MP Kirit Somaiya, his passport was seized and could not travel abroad for business dealings to deliver Rs 251 priced smartphones. Somaiya had also dubbed the smartphone venture as 'Ponzi scheme'.
Mohit said that out of 110 distributors of the company, nearly 95 have received full payments and remaining 15 were also paid back nearly 60% of the amount. The balance payment of these distributors was to be paid by end of March, he said.