Ghaziabad police arrests 'Tara aunty' for running sex racket through WhatsApp
Ghaziabad police arrested a woman, and her three male accomplices, who allegedly ran a prostitution racket through social media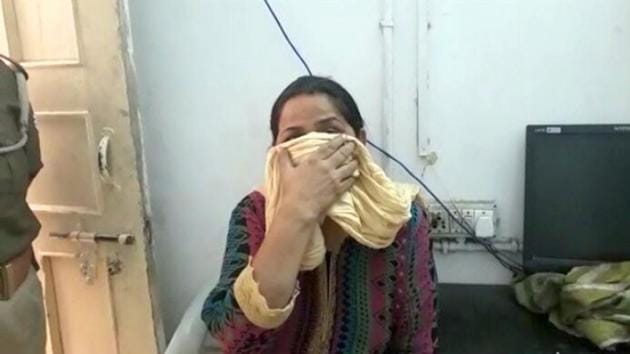 Updated on Mar 17, 2017 01:23 PM IST
The Ghaziabad police on late Thursday night arrested a 45-year-old woman, and her three male accomplices, who allegedly ran a prostitution racket through social media and charged commission for arranging potential customers to meet the women. According to police officials, the woman operated from a flat in Shalimar Garden and has been operating the 'friendship club' through messaging app WhatsApp for the past three years.
According to officials, Tara alias Manju was arrested with Rajiv Sethi and two other accomplices who hail from Ashok Vihar. Tara and Sethi stay at Shalimar Garden flat, police added.
Following the alleged gang rape and forcing of a 16-year-old girl from Uttarakhand into prostitution, the police were on lookout for the woman, known as Tara aunty. She is suspected to be the mastermind of the racket and is also wanted in connection with the minor girl's case.
"The woman hails from Shalimar Garden in Ghaziabad and operates from her flat. She gets women from nearby localities in Ghaziabad and Delhi. After we lodged an FIR in connection with the minor girl, the victim told us about her. Our teams conducted searches and have also come to know about her operations," said Anup Singh, circle officer (Sahibabad).
Tara is allegedly an active member of dozens of groups on WhatsApp and remains on the lookout for customers. Once she finds such men, she allegedly gets in touch with them and starts a conversation before proceeding further.
The police also recovered three smartphones from possession of 'Tara aunty' and her live-in partner Rajiv Sethi who operates water supply business. The officials said that Tara was moderating groups - 'Delhi area,' 'NCR area' and 'Ghaziabad group' on WhatsApp from these smartphones. Nearly 60-100 people were added in the three groups.
"All these people had put up fake profile pictures. It is suspected that most of the members of the group were in touch with Tara and her activities. She had also posted pictures of women and also of the minor girl in the group to lure clients. The groups were made purposely for such activities," said Anup Singh, circle officer (Sahibabad).
Police is also on lookout for a fifth person who is a part of this racket.
"In these groups, there are some sex workers who voluntarily opted to become members of the WhatsaApp group. Tara kept in touch with women looking for customers. She acted as a facilitator and negotiated deals on behalf of sex workers. She charged 50% commission for arranging meetings. The commission ranges anywhere between Rs 10,000 and Rs 25,000 depending on the customer she gets," a police source said.
Investigating officers said Tara has been operating for the past eight to 10 years, but became active on WhatsApp only in the past three years to search for customers and avoid the police on ground.
"She has no women in her group, but arranges them on demand through WhatsApp," the source added.
Her name cropped up after the 16-year-old girl, who says she is from Uttarakhand, allegedly landed in her trap in a train from Roorkee to Shamli and ended up in her flat in Shalimar Garden on March 4. The Ghaziabad police has lodged an FIR for gang rape and under provisions of the Protection of Children from Sexual Offences Act at Sahibabad police station.
Based on her statements, the police have lodged an FIR. The girl was allegedly handed over to several men by Tara, some forced themselves on her. Others let her off saying she was too young and not 'suitable.'
The girl has also alleged that after she was rejected by some men, Tara took her to a woman in Laxmi Nagar, Delhi, and tried to persuade her to book the girl on the internet. However, the woman turned down the offer and let the girl go on March 13.
"The girl has said that she was forced by Tara into physical relationships with some men when she stayed at her flat for four to five days. She was later let off and the Delhi police found her in Ashok Vihar. They handed her over to us and we lodged an FIR. The woman and her accomplices were arrested," Singh said.
The girl was also produced before a Ghaziabad court to record her statements on Thursday and will later be brought before the child welfare committee for further directions. Police teams are also looking for her house and are trying to contact police stations in Uttarakhand.
Close Story