50 couples held for 'immoral activities' in Ghaziabad, cop suspended
Raids conducted in Ghaziabad's Bazaria market on complaints by locals that the rooms were let out by the hotels on hourly basis fro 'immoral activities'.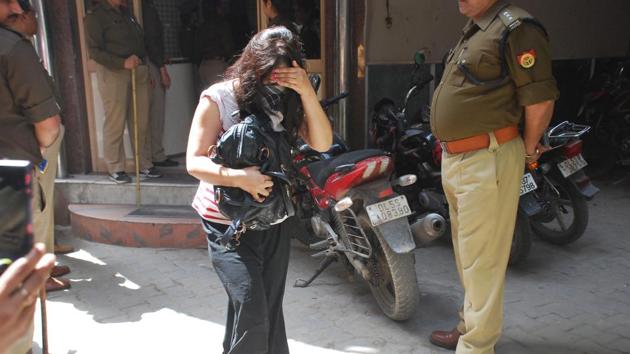 Updated on Mar 24, 2017 07:41 AM IST
Ghaziabad senior superintendent of police (SSP) conducted raids in hotels in Bazaria market on Monday and nabbed 50 couples for "immoral activities". Following the raids, the area circle officer was removed. The local police post in-charge and a driver were also suspended on suspicion of aiding the activities in the area.
Officials said that the raids were conducted on a complaint by locals who alleged that the hotel owners rented out rooms to couples after allegedly charging them Rs 500-1,000 on an hourly basis.
"The area circle officer has been shifted to SSP office and his driver along with the local police post in-charge stand suspended. Either the officers had no knowledge of such activities and were lax in discharging their duties or they were hand in glove and aiding the hotel owners. So, we got them removed. Inquiry will also be initiated against the other personnel of the police post," said Deepak Kumar, SSP Ghaziabad.
Read: Suspecting prostitution, police detain 56 young couples from Ghaziabad hotel
Before the raids on two hotels — Arya Deep and Devender — a team was sent to recce the location on Sunday evening. During the operation, the Kotwali police station as well as local police post was not provided any information. The SSP received complaints that couples arrived between 11am to 2pm and indulged in "immoral activities".
On Monday afternoon, several police teams, including women officers, were sent to conduct surprise searches and found 50 couples inside rooms of the two hotels. They were later taken to Ghanta Ghar Kotwali where their credentials were verified. Initially, many of them provided false addresses and even told police that they were married.
"We received information about such illegal activities being conducted by some locals. We sent our teams, including women officers who surveyed the area on Sunday. We were informed that such activities take place between 11am to 2pm when most customers arrived. So we conducted the raid on Monday afternoon," said SSP Ghaziabad said.
Following the searches, the two hotels were sealed and process of lodging an FIR against hotel owners Ravinder Yadav and Sachin Kumar, was initiated. The duo had fled the spot when the raids were being conducted.
"The addresses of the couples were taken and verified. Their parents were informed and asked to take them after completing formalities. Most of the couples were from Ghaziabad and Delhi," said IP Singh, circle officer (city I).
Read: 12-year-old Delhi girl rescued from hotel in Ghaziabad, man held
Bazaria is an old commercial market surrounded by residential localities. It is also close to the Ghaziabad railway station. Here, the skyline is dotted with dozens of small and big hotels where couples frequently arrive. "In a meeting before elections, people raised the issue and we promised action. Now, they again approached us and we decided to send teams under cover. The raids revealed the exact things as told to us by locals," the SSP said. Earlier, in 2013, the police raided several hotels and detained 56 couples who were later let off.
Close Story