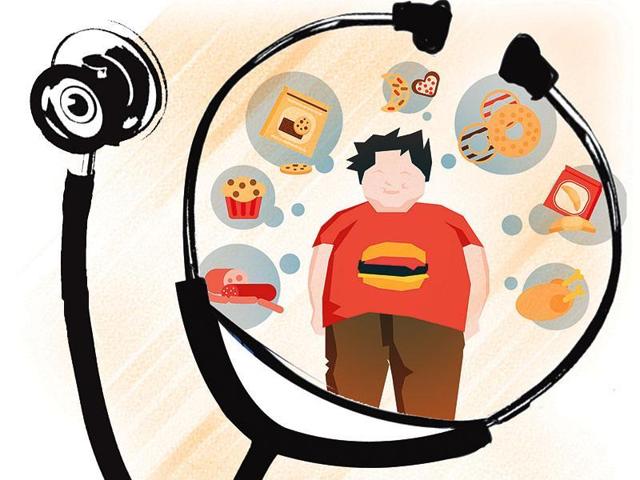 'Unhealthy lifestyle leading to fatty liver in young children'
A survey, conducted on students of 51 private schools in a span of one year, revealed that 22% of the children were overweight
UPDATED ON DEC 22, 2015 11:16 AM IST
Young children are falling victim to obesity and fatty liver diseases because of the unhealthy lifestyle and eating habits.
A survey, conducted on students of 51 private schools in a span of one year, revealed that 22% of the children were overweight.
According to doctors, obesity increases the risk of fatty liver ailments by 20 to 30%. The survey was conducted by Jaypee Hospital, Sector 128, between March 2014 and August 2015.
"Out of a total of 8,054 children between the age group of 10 to 14 years, 1,772 children fell under the category of overweight on the growth curve. This is an alarming situation as children who are overweight are at a higher risk of suffering from a fatty liver. About 20% of these children might have liver disease in future, and 10% people with fatty liver disease have to undergo a liver transplant," said Dr Abhideep Chaudhary, senior liver transplant surgeon, Jaypee Hospital.
On the growth curve, children between 5 to 85 percentile are considered normal, 85 to 95 percentile are overweight and above 95 percentile are obese.
Due to sedentary lifestyle, people build up fat in the liver, which is 5 to 10% more than the normal. With timely medical intervention, fatty liver is a reversible condition that can be resolved with changed behaviors. However, it can interfere with the functioning of the liver and cause permanent damage, if ignored.
"Liver transplant becomes the only option if the damage is irreversible. Usually a transplant requires a donor with compatible blood group, but we have conducted ABO incompatible liver transplants where blood group of the donor and receiver did not match. The receiver undergoes immuno-absorption and blood washing few weeks before the surgery for preparation. Rest of the procedure is similar to the compatible liver transplant," said Dr Chaudhary.
Excessive consumption of alcohol, infected viral hepatitis and diabetes can also result in chronic liver diseases. Dr Sarita Sharma, a senior consultant pediatrician with the Fortis Hospital in Vasant Kunj, said that symptoms of fatty liver disease in children can be poor weight gain, fatigue, jaundice and other manifestations of liver dysfunctioning such as blood in vomit.
"Overweight children are at greater risk of developing liver cirrhosis in young age. Those who have family history of obesity are more vulnerable. Once the liver is damaged, it cannot be reversed. The child has to undergo liver transplant. However, healthy lifestyle and physical activity can prevent further damage to the liver, said Dr Sharma.
Close