Is China punishing India for its Belt and Road stance while testing Modi and Trump?
The Sikkim standoff could be an act of dominance by Beijing aimed at showing the world who's in charge in Asia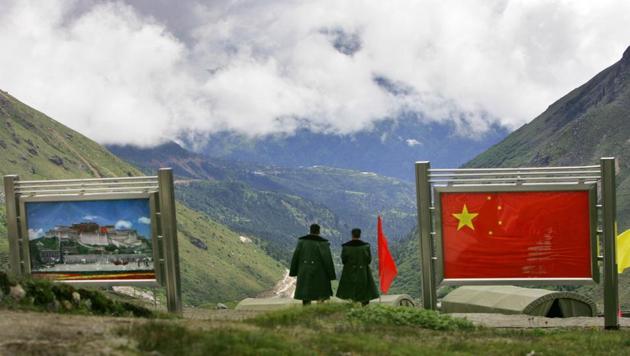 Updated on Jul 04, 2017 05:48 PM IST
As a form of geopolitical chess, the current India-China military standoff over a piece of territory that Bhutan claims, is fascinating. Nations do not wage outright war nowadays but they initiate crises that gives them strategic advantage, bolster (or weaken) the standing of political leaders, influence the perceptions of nations around them and test the global balance of power. The situation alongside Sikkim may be one such moment that contains such possibilities, if the current drama continues indefinitely.
The ground situation is murky but it is clear that China has initiated this confrontation by trying to build a road through the Doklam plateau in Bhutan. The Bhutanese and Indian military challenged the move in turn, leading to the faceoff. Strategic specialists note that the situation has come about because the three countries have different perceptions as to where the 'trijunction' is – with Beijing saying it is 15 kilometres south of where Thimphu believes it is.
This raises the question as to why China is taking such an aggressive posture publicly, rather than addressing it through diplomatic channels. Both the Chinese foreign ministry and the People Liberation Army (PLA) are providing sharp briefings – there have been more than 10 statements in as many days. India has been accused of "betrayal" and "ignoring international law", the PLA told India's army chief Gen. Bipin Rawat to stop clamouring for war. Beijing says withdrawal of Indian troops is a precondition for settling the current dispute; it is releasing pictures and maps that allegedly show Indian incursion. India, on the other hand, has issued a statement spelling out that it is an incursion on Bhutanese land and that a change in status quo would have serious security implications.
It is difficult to discern China's motivations. It can either be a ploy to improve its negotiating position or it may be about achieving other political objectives. One possibility is that it is indicating its displeasure to India for not attending the Belt and Road Initiative (BRI) summit in May. The reason it would take it that seriously is because the BRI was not just any summit for Beijing. It was an occasion to celebrate China's intent to remake Asia's geography and transform the course of global trade over the next few decades. It was an event about status, a meeting crafted to symbolically affirm its primacy in Asia with the presence of many nations.
For India not to show up at the summit and instead periodically cast doubts on BRI's viability is presumably an affront that Beijing felt needed to be addressed. India is now becoming the herald of opposition to the One Belt One Road project and now that the summit has been held and the buy-in of other nations secured this may have been seen as the right time to put India in its place and demonstrate to the world the limits of Delhi's power. In his book Choices, former National Security Adviser Shivshankar Menon writes that the PLA's incursion into Ladakh during Xi Jinping's 2014 India visit could (among other reasons) be seen as an "early attempt to establish psychological dominance" over the then new Modi government. The Sikkim standoff could also be a similar act of dominance, aimed at showing the world who's in charge in Asia.
Picking on Bhutan to make the point is thus no coincidence because the incursion into Doklam suddenly puts India in a position of having to defend its small neighbour. What the current situation does is to unsettle the equation between Delhi and Thimphu; the latter will be keen not to get drawn into an open conflict and there will likely be a debate within the kingdom about having diplomatic ties with China and any sign of that will unnerve India.
What unfolds hereon depends on what Beijing wants to get out of this crisis. If it only wants more diplomatic engagement with Bhutan (which India disapproves of) it can keep maintaining that this is essentially a dispute between China and Bhutan and insist that more contact is imperative for resolving differences with Thimphu. That way Beijing will have communicated to the world that it has prised open India's exclusive sphere of influence without firing a shot. India will lose face but may consider it a better price than armed hostilities.
But what if it is territory that China really wants in order to eventually move armour to the region to threaten the narrow Siliguri corridor or the 'chicken's neck' that connects Northeast states to the rest of India? That is an objective which Beijing may be keen on but it is not easy to achieve because India will contest a Siachen-like takeover. India has rushed in more troops to fortify an already strong ground position. Gen. Syed Ata Hasnain has tweeted that the PLA would be "quite crazy to launch an offensive thru Chumbi Valley and a corridor dominated by India and Bhutan either side". That said there may still be elements within the PLA clamouring for conflict – and there is really no telling how the next India China war will turn out. Strategic planners anticipate that it will be "limited in scope and short in duration, rather than a protracted, large-scale, force-on-force campaign" because of the nuclear overhang. India can do some damage with "horizontal escalation" and using special forces but it will be up against its own difficult terrain and China's faster mobility and coordination.
Scholars do not rule out war but it is not in either country's interest to start one. Financial markets will react badly and China may not want to be seen as initiating one since it wants to allay apprehensions in the world about its rise and now sees itself as a champion of globalisation. These considerations, however, may not be enough to prevent it from extending the military standoff with India as it generates other effects that may be beneficial to Beijing.
The standoff serves as an opportunity to test Donald Trump's administration and the robustness of India-US relations. Trump is proving to be distracted and wholly incompetent President; an escalated India-China crisis can help China discern how the US national security apparatus led by NSA Gen. HR McMaster and secretary of defense James Mattis would respond to a crisis with an unhinged president at the helm.
This could be crucial to shaping the balance of power in the region. It's worth recalling that President Barack Obama was faulted for not being adequately committed to Asia; he signalled a pivot but did not commit resources to challenge Beijing – a fact that allowed the latter to underline its dominance in the region through assertions in the South China Sea. Likewise, Beijing could be now looking to see to what extent Washington will back India in a crisis. The US may choose to intervene as failing to do so would harm its standing in Asia.
But what kind of support the Trump administration can offer in the face of a land-based dispute remains unclear. The US could signal, for example, by repositioning naval assets in the Indian Ocean but that would provide China the excuse to send an aircraft carrier to Gwadar in Pakistan and thereby alter the force structure in India's neighbourhood. A steady escalation with India therefore contains the possibility of creating more strategic space for China.
An extended crisis also works to weaken the political authority of Narendra Modi. A strongman who has undertaken surgical strikes against Pakistan cannot be seen as tolerating a brazen land grab in a country that is effectively under India's protection. The Chinese would know that Modi would not want to be politically damaged by coming off second best with Beijing, as Jawaharlal Nehru was after the 1962 war. In fact, a China policy that goes horribly wrong may be the only political weakness that Modi has given his current dominance in the Indian political scene – and that is a pressure point that Beijing could look to exploit in the future. What makes it awkward for Modi is that many of his supporters demand quick action and reprisals from his government. His government may need to discourage febrile commentary on television and social media and even if it does there's no guarantee that China will scale back its information offensive.
As indicated, the other way the standoff damages India is that it is now a part of the global theatre, eliciting interest of countries in Southeast Asia and those further afield who are keen to see if a country like India can stand up to Chinese aggression. If prolonged it is also the kind of crisis that can expose India's weak leverage in world affairs. With the US, Europe and Africa needing China in different ways, Southeast Asian nations backing OBOR and Muslim countries aggrieved about the situation of Indian Muslims and Kashmiris under BJP rule, it remains unclear as to who will stand up for India when push comes to shove. Overdue aggression by Beijing can certainly accelerate anti-Chinese banding efforts over time but there are short-term reputational and tangible risks for India.
This situation thus has implications for both Modi's political career and India's image abroad. What is not clear at the moment is how China plans to scale back the situation after demanding Indian troop withdrawal. But the standoff indicates what Beijing expects from Asian neighbours: active support to OBOR, substantive economic ties with all but no symbolic challenge to China's dominance in the region. PM Modi wants to focus on his internal priorities and can do without a showdown with a bigger neighbour that has the potential to undercut him domestically. In theory, Modi may be best served by a stalemated short war with China, which he can represent as a victory at home. But that may not be on offer in reality.
He needs to find a way to restore status quo with honour.
(Views expressed are personal. The Twriter tweets as @SushilAaron)
Close Story
Personalise your news feed. Follow trending topics