Pakistan is not deterred by Trump's Afghan policy that favours India
Sep 04, 2017 11:54 PM IST
Islamabad is extremely suspicious of Donald Trump's South Asia policy because it gives an open cheque to India for mounting a double front against Pakistan
A unanimous parliamentary resolution in Islamabad on August 30, which denounced United States President Donald Trump's "complete disregard for Pakistan's vast sacrifices" in counter-terror efforts and called on the government to consider suspending cooperation with the US, possibly defined the new contours of ties with Washington. Also, the tone and tenor of Prime Minister Shahid Khaqan Abbasi, who chaired two emergency huddles of the National Security Committee (NSC), a forum comprising top civilian and army officials, indicated that after a decade-and-a half of rocky ties Pakistani civilian and military elites have decided to collectively reject Trump's intimidation of Pakistan while unveiling his new Afghan and South Asia strategy, on August 20.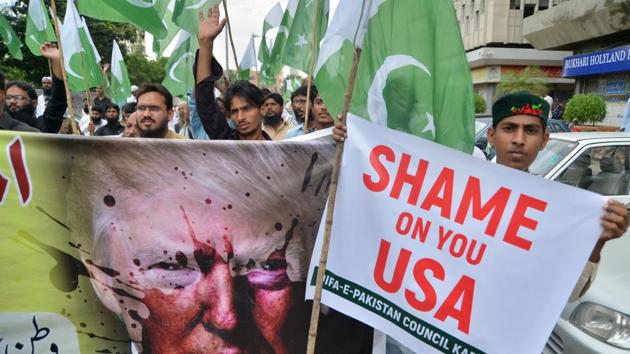 With this Pakistan drew the line between its own course of anti-terror action and the demands placed by Trump. It went into an "enough is enough" mode in unison, and foreign minister Khawaja Muhammad Asif put off his Washington visit, advising Alice Wells, US secretary of state for South and Central Asia, to do the same to avoid mutual embarrassments.
Both Abbasi and army chief General Qamar Javed Bajwa openly rebuked Trump for singling out Pakistan as the cause of Afghanistan's troubles, and instead demanded "due" recognition of its material losses (up to $125 bn) and human sacrifices (nearly 70,000) in the anti-terror war. Abbasi went to the extent of forecasting doom for Trump's Afghan policy.
And there are cogent reasons for this bravado in Islamabad.
First, Trump and Prime Minister Modi's ascendant views on Pakistan have fuelled frustration and driven the political Right and Left into believing that the "unholy collusion" comprising India, Afghanistan and the US is aimed at hurting the interests — not only of Pakistan but also of its political allies such as China and Russia. Even the Pakistan Peoples Party (PPP), an ardent supporter for friendly relations with India, and Imran Khan's PTI, appeared incensed over the India-US synergy on Afghanistan. Raza Rabbani, the chairman of the upper house of parliament and a former PPP stalwart, too, openly speaks of New Delhi's intransigence.
Second, most Pakistani officials insist, that the Trump strategy gives an open cheque to India for mounting a double front against Pakistan, and hence are extremely suspicious of the motives.
Third, Pakistan's security establishment views the Trump strategy as an excuse for long-term presence in Afghanistan with the ultimate objectives of containment of China, a check on a resurgent Russia and preventing both from turning the Shanghai Cooperation Organisation (SCO) into a formidable regional block.
Security officials don't rule out economic sanctions or intensification in kinetic attacks on targets inside Pakistan if the Trump administration decided to ramp up pressure. However, a senior security official dealing with policy responses argued that Pakistan was ready to face any challenge arising out of Trump's threats.
General (rtd) Nasir Khan Janjua, Pakistan's national security adviser, cautions against the use of force on either side of the border: "One should not try to win war in Afghanistan by way of vengeance ….. this will further spread the conflict and spiral things out of control," Janjua said in his meeting with US ambassador David Hale.
Janjua's message implied that responsibility for peace in Afghanistan rested on all, who must seek the "closure of the conflict", instead of trying to win it through military means.
Fourth, is the message related to "bullying" by the US. If a chance of Pakistan bending under pressure ever existed at all that would have been before China offered its strategic embrace through the China-Pakistan Economy Corridor (CPEC) in 2015, a multi-billion dollar undertaking involving communication, energy and infrastructure projects.
Fifth, unlike Trump and Modi, Chinese, Russian and Iranian leaders think differently on the chequered peace process in Afghanistan and are more aligned with the Pakistani view on the way forward in Afghanistan.
Sixth, undeterred by Afghan objections, Pakistan is forging ahead with its new "border management mechanism." However displeasing it may be for Afghans, who historically prefer to see the Durand Line as border, Pakistan is setting up new security posts, digging protective trenches and placing fences at critical segments of the 2,560-km border with Afghanistan. It has also rejected demands by Afghans for "third party verification" of Pakistan's counter terrorism actions in the deep seated multilateral mistrust.
Without confronting the US head-on, Pakistani officials hope to blunt the Trump-led allegations of Pakistan being the "source of violence" in Afghanistan. The silver lining lies in what US secretary of defence James Mattis said in Washington last Thursday. "We intend to work with Pakistan in order to take the terrorists down. I think that's what a responsible nation does," Mattis said when asked as to "what kind of relationship the US wanted to keep with Pakistan".
Imtiaz Gul is an author and heads the Centre for Research and Security Studies, Islamabad
Twitter: @vogul1960
The views expressed are personal