The Dalit story in today's India is no longer a side plot of class
Updated on Oct 16, 2017 12:50 AM IST
Today, the Dalits want to engage with their pasts in order to recover their own unique journey towards embracing modernity. This goes against the Right-wing for whom the past is solely the search for ancient glory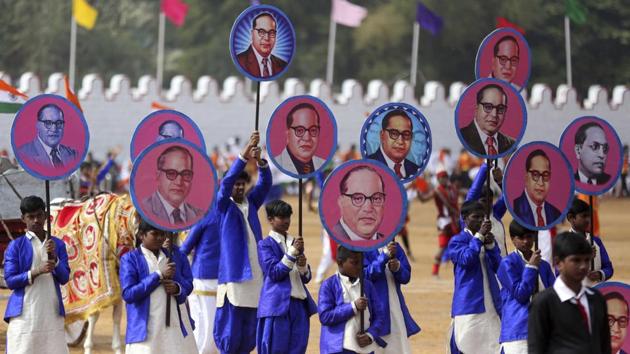 In a rare instance, the academic world has caught up with grassroots activism and the rumble of politics on the ground. Through a set of riveting essays in a collection titled Dalit Studies (2016) edited jointly by Ramnarayan Rawat and K Satyanarayana, we now have compelling explanations for what animates and inspires several Dalit struggles in India.
Earlier, the electoral eclipse of the Bahujan Samaj Party (BSP) had left many wondering if Dalits had indeed abandoned the quest for evolving their own political leadership. It was even argued that a majority of those who historically suffered from the stigma of untouchability were now increasingly comforted by Hindutva ideologies or overwhelmed by the desire for aspirational development rather than social justice. But soon a veritable explosion in caste violence across India, especially within universities, firmly ended such reasoning. A realisation that was made most palpable following the tragic death of young scholar Rohit Vemula.
The subsequent campaign against the poison of caste-based discrimination dramatically revealed how a range of radical Dalit ideologies and groupings had, in fact, already begun incubating in India. Notably through the Ambedkar Periyar Study Circle (ASC) at IIT Madras, the Birsa Ambedkar Phule Students Association (BAPSA) at Jawaharlal Nehru University, the Ambedkar Student Association (ASA) at Hyderabad Central University, the eloquence of Jignesh Mevani from Gujarat or the muscular mobilisations by Chandrashekar Azad of the Bhim Army — a critical Dalit imagination had clearly begun consolidating. If anything, once again, there is a scramble to explain why the BSP's electoral failure has not meant a silencing of Dalit politics.
Dalit Studies, in fact, responds to this riddle by asking: How does one understand the flourishing in recent years of a vibrant Dalit intelligentsia despite their seeming electoral irrelevance. According to Rawat and Satyanarayana, the 1990s was an inflection point and a breakout moment for Dalits in India. The neoliberal turn in the Indian economy not only shook feudal domination in the countryside where Dalits lived in appalling servitude but this period of social churning also enabled them to make a big leap into the new market economy. While the subsequent exodus out of rural India allowed Dalits to make a grab for new economic opportunities in the cities, a large number went on to secure admission into the then expanding public university system. Dalits, thus, steadily began to gain a meaningful presence in higher education and used their learning to then piece together their own narrative over what constituted untouchability and what caste discrimination meant to them.
Dalit Studies explains this ideological rupture by arguing that today's Dalits are no longer prepared to be passive 'subject matter' for academic scholarship. Instead, they now see themselves as empowered agents and 'actors in the production of knowledge'. Towards which, especially in recent years, vigorous intellectual energies have re-conceptualised their pasts in order to argue that their unique travails, traumas and experiences of untouchability have not been ably captured in existing historical and sociological frameworks. That is, the Dalit story is not meaningfully told when modern Indian history is either viewed as simply the tension between British colonialism and Indian nationalism or when Marxist- and Left-inspired writings reduce the manifold suffering of untouchability to a side plot in the politics of class.
Rather, the frontline for this new scholarly thinking is aimed at crafting narratives that can speak forcefully to the Dalit quest for human dignity, self worth and self esteem. Put differently, the Dalits want to engage with their pasts in order to recover what they believe to be their own unique journey towards achieving and embracing modernity. This goes sharply against the Right-wing ideologues for whom the past is solely the search for ancient glory. This new sense of the past, for the Dalit, moreover, remains but a mere detour to a future in which their cultural, material and psychological humiliations are fully ended.
Ironically, just as Dalits have begun to outflank the orthodox thinking on untouchability, their access to education is under attack. Public universities and government-aided institutions for higher learning in India today are being marginalised with funding cuts and their intellectual freedoms curbed. Private universities, on the other hand ― with no requirement to implement affirmative action or reservations for the socially discriminated — are being aggressively encouraged.
Dalit Studies, however, sternly warns us against any attempt to suppress an intellectually flourishing Dalit world.
Rohan D'Souza is associate professor, Kyoto University
The views expressed are personal