Harshita Tomar hopes sailing bronze at Asian Games will keep her away from 'boring' books
Harshita Tomar,16, missed her class X exams to be in Jakarta for the Asian Games and as it turns out, the risk was worth taking as she ended up with a bronze in laser 4.7.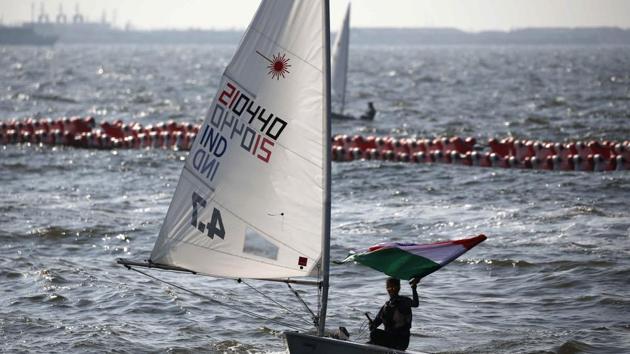 Updated on Sep 06, 2018 10:48 PM IST
New Delhi |
Press Trust of India
She wants to have nothing to do with books and armed with an Asian Games medal now, sailor Harshita Tomar has managed to convince her parents that she wouldn't be missing much by prioritising sailing over schooling.
The 16-year-old missed her class X exams to be in Jakarta for the Asian Games and as it turns out, the risk was worth taking as she ended up with a bronze in laser 4.7.
If Harshita has her way, she would happily miss the exams again but she can't.
"I don't want to have anything to do with studies. After all, it is the not the only thing that educates. But I know my parents will be after my life and I do have some free time from sailing so I rather appear for my board exams," Harshita said in tongue in cheek style at a felicitation ceremony organised by CBI, where her mother Rani Tomar is a constable.
Her proud parents, Rani and Devendra Singh Tomar, pushed her to study in an already punishing schedule that required six hours of training on water.
Like normal parents, they also wanted their daughter to be well educated but now they realise education is a lot more than just getting lost in the books.
"Education is important and that is why we wanted her to do normal school and college but with the exposure she has got through sailing, we feel she is much smarter than the kids of her age. We have not gone outside (India) but she has travelled the world all by herself. Now we realise that is very much a part of education," said Harshita's emotional mother.
ALSO READ: 'My calls for help weren't answered': Asian Games winner Divya Kakran tells Delhi CM Kejriwal
Harshita, who grew up swimming in Narmada river in Hoshangabad, was born to be in water but is equally good at drawing and cycling, her mother reveals.
It was sheer destiny that Harshita became one of India's youngest medallists at a multi-sporting event. She was an accidental swimmer before she became an accidental sailor in 2012.
Her mother was in the CRPF for almost 20 years before shifting to CBI and that meant she had to keep changing cities. Rani was posted in Srinagar when Harshita was born but soon moved to Hoshangabad in Madhya Pradesh.
The nature of Rani's job adversely impacted Harshita's health.
"Since I was away, I could not feed her that much in the first two years. She became weak from inside so the doctors recommended that we take her to some cool place.
"That is why I started taking her for a swim in Narmada and there she took to swimming as if she was born for it. It is only after she turned six, that she got healthy. It was a long struggle for her as well as for us," said the father, who works in a Hindi newspaper in Bhopal, near Hoshangabad.
She won as many as 100 medals in swimming before sailing suddenly happened when she was spotted by the coaches of the Sailing Academy in Bhopal.
ALSO READ: PM Narendra Modi congratulates Asiad medallists, asks them to work harder for Olympic glory
"I did not want to be a swimmer, I did not want to be a sailor. It just happened," said Harshita.
She competed with men in the laser 4.7 class in Jakarta and still came home with a bronze. "If it was not an open race (comprising both men and women), I would have won gold," said the champion sailor.
Besides clearing her board exams, Harshita knows she has got a herculean task at hand before the 2020 Olympics.
She currently weighs 50kg and needs to gain at least 10kg to compete in the laser radial class, which is an Olympic event.
"It will be tough and I know I have to work doubly hard for it. It was fun competing against the men but in the higher class, I would only have to deal with women. For now I want to enjoy some free time," added Harshita.
Close Story
Personalise your news feed. Follow trending topics