ISSF World Cup Final: Alessia Iezzi traps gold, Jolyn Beer wins 50m 3-position
Alessia Iezzi and Spaniard Fatmia Galvez were tied on 41 points each at the end of the 50-shots final. In the shoot off, the Italian beat Fatima 2-1 to win the title at the ongoing ISSF World Cup Final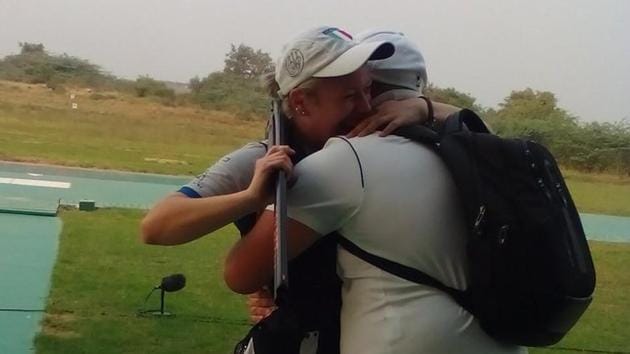 Updated on Oct 28, 2017 05:33 PM IST
Italy's Alessia Iezzi excelled in women's trap, while Jolyn Beer of Germany was crowned champion in women's 3-position rifle on the penultimate day of the ISSF World Cup Final here at the Karni Singh Ranges on Saturday.
Alessia and Spaniard Fatmia Galvez were tied on 41 points each at the end of the 50-shots final. In the shoot off, the Italian beat Fatima 2-1 to win the title.
It was heartbreak for Lebanon's Ray Bassil as, despite leading the field till the halfway mark -- she shot 24 out of 25 -- she missed two targets thereafter to slip to third spot.
READ | ISSF World Cup Shooting Final: India's Sangram Dahiya, Amanpreet Singh win medals
Gold for Jolyn
Jolyn was all concentration in qualification. She sustained her efforts in the final too to take home the 3-position title. The race for the title was between three shooters – Jolyn, Croatia's Snjezana Pejcic and China's Zhang Yiwen, but it was 23-year-old German who prevailed. Jolyn's winning score was 459.9.
Seasoned shooter Pejcic missed the 'inner circle', shooting 9.3 in her last shot to win silver with 457.5 points, while China's Zhang Yiwen got bronze with 448.2.
Jolyn, in fact, looked in great form in qualification. She shot 589 but was placed second as she had 29 'tens' compared to Pejcic who also shot 589 but had 31 'tens'. China's Yiwen was sixth in the qualification .The top eight shooters qualify for the final.
Close Story