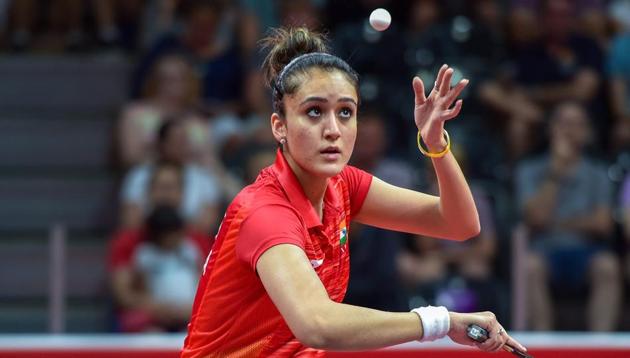 Manika Batra the star as India dominate table tennis at 2018 Commonwealth Games
Manika Batra won two gold, a silver and bronze medal as India, with Achanta Sharath Kamal's great showing, ended the 2018 Commonwealth Games (CWG 2018) table tennis campaign with three gold, two silver and three bronze medals.
UPDATED ON APR 15, 2018 05:14 PM IST
India's table tennis campaign at the 2018 Commonwealth Games established Manika Batra as the star to watch out for on the world stage.
On the final day of competition, India picked two bronze medals in table tennis -- in mixed doubles and men's singles -- Achanta Sharath Kamal claiming the singles third place by beating Samuel Walker of England 11-7, 11-9, 9-11, 11-9, 12-10. The mixed doubles bronze medal was won by Manika Batra in the company of G Sathiyan on Sunday, beating compatriots Sharath Kamal and Mouma Das. That took Manika's medals tally from Gold Coast to four -- two gold (team and women's singles), one silver in women's doubles, and the mixed doubles bronze, making her the most successful table tennis player at the Games. (CWG highlights)
Her campaign has been historic and performances magical. Manika spearheaded the Indian challenge as they won the women's team competition for the first time, beating Singapore's World No 4 Tanwei Feng in the first singles. That win gave her Indian teammates the confidence they can beat Singapore, the dominant force at Commonwealth Games. Manika came back to win another singles to clinch a 3-1 win for India in the team competition.
READ MORE | 2018 Commonwealth Games: Saina Nehwal wins gold as India finish with 66 medals
But what caught the imagination of table tennis fans at Gold Coast was her brilliant win in the women's singles final. Even her ardent fans would not have had imagined that the Indian, ranked 58th in the world, could have beaten Mengyu Yu, Singapore's second highest ranked singles player again – that too in straight games.
By this time, the Singapore players would have figured out her tactics – to keep the racquet close to her body, switching sides to use the long-pimpled rubber to counter the spin generated by the Singapore players, and to use chop and block to upset their rhythm.
But it seems, they could not counter her tactics and her ability to execute the plan perfectly.
READ MORE | Something wrong with Indian women's hockey team: Mamta Kharab
"The experience is amazing – I defeated the world No. 4 Tianwei Feng twice in a week. I am feeling really happy and very proud for my country," Manika said after her singles win.
Manika had devised this strategy to block on the backhand and counter from forehand with India's chief coach Massimo Constantini. The Italian was really proud of her performance and credited her hard work and determination for her superb performance.
"I like her dedication and hard work. She takes her game very seriously and is always ready to work on her game. She has amazed me with her performance here," Constantini had said after India's win in the team competition.
READ MORE | 2018 Commonwealth Games gold medallist lifter Punam Yadav attacked in Varanasi
While the spotlight has been on young Manika, seasoned Sharath Kamal too had a successful campaign here as he won three medals, one gold, one silver and one bronze. Sharath, gold medallist in 2006 in Melbourne, guided India to the men's team title, winning crucial matches in semis against Singapore, and Nigeria in the final. The 35-year-old bagged bronze medal in men's singles and with a little bit of luck, could have ended with another gold, in men's doubles alongside Sathiyan. The top seeds lost to an English pair in the final.
Overall, it was dominant run by India, which bagged three gold, two silver and three bronze medals to finish on top of the table.
However, now that the Commonwealth Games are over, the next challenge begins for Manika – to continue their success on the world stage and at the Asian level with players from China, Japan and South Korea in fray. With this success will come extra scrutiny – till now she has functioned under the media radar. Now the real game starts for Manika Batra.
Close