Futuristic farmers-1: Riding pigs to prosperity
Updated on Feb 03, 2016 07:06 PM IST
At a time when the much-debated agrarian crisis is pushing farmers to the edge, they are the seedlings of agri-entrepreneurship nurtured by sheer dint of hard work and ingenuity. Beginning today, Hindustan Times will carry a series on futuristic farmers who are the face of a rainbow revolution that Punjab desperately needs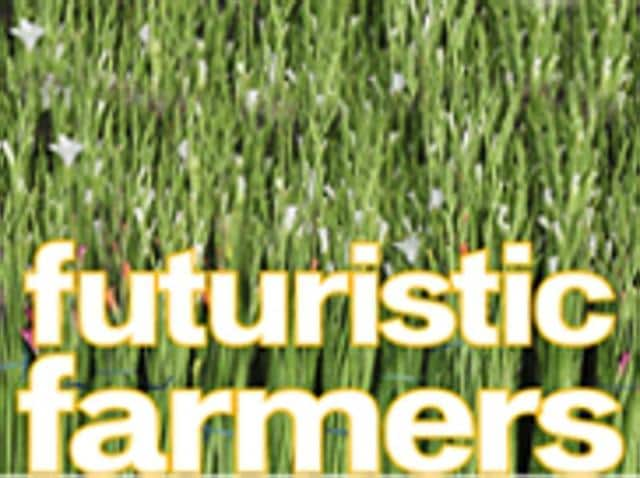 "Pigs represent prosperity," says an excited Dalwinder Singh, "You must have had a piggybank as a kid." For this much-decorated Punjab farmer, piggery is the new way forward. Having developed a self-sustaining food-chain in his backyard — barely two and a half acres of land — Dalwinder's highly successful pig-breeding centre gets him nearly Rs 30 lakh annually, an income not possible from traditional cultivation on such a small piece of land.
A typical marginal farmer, left with only a little land following generations of division, for Dalwinder, crop-cycle farming is not an option. And he realised that rather early. "In 1985, when we had a larger piece of land, I tried to grow four different crops through the year. It was a successful effort for which I got an award too. But, with only two acres left now, growing wheat and paddy barely gives you enough grains to last a year for personal consumption!" he says.
FROM DAIRY TO PIGGERY
Dalwinder moved to dairy in the 1980s, and in the year 1990 he got another state award, this one for the highest yield of 500 litres of milk in a day from 65 cows. He persisted with dairy for two decades. "We have a popular milk booth at my house in Kurali, where I have a deep-freezing facility too. Other than milk as such, we sell milk products."
Encouraged by scientists at the Punjab Agricultural University (PAU) to try rearing pigs some years ago, Dalwinder was sceptical. "I also had the same thoughts about pigs as you might be having! 'They are dirty, spread diseases and, most important of all, who will buy them?'"
But everything changed once Dalwinder started rearing the first set of 10 pigs in 2010 on a two-kanal corner of the dairy farm in his fields at Kishanpura in Rupnagar. "Pigs are intelligent creatures; more obedient than dogs. And, surprisingly, they keep their surroundings quite clean. The best part is that there is a huge market for pigs in India, both young and fully-grown ones. Initially pig traders from Kerala, Assam and Nagaland buying pigs from Punjab were transporting these in trucks; but then they got together and started hiring coaches in trains. The demand is so high that traders actually come looking for people who rear pigs. We don't have to move an inch to sell them."
THE MATH OF IT
The economics of starting a piggery is rather simple. A fully grown pig can be bought for Rs 8000. "One can start with a male and a female. The Punjab government has developed the Large White Yorkshire breed that can be bought from government centres. Since over half a dozen piglets are born in one go you can have almost 10 pigs in just the first three months. Piglets can be sold to fattening units for Rs 2,500-3,000 each, or fattened and then sold for Rs 7,000-8,000 each. Initially a small shed with water supply is needed for which the government gives a hefty subsidy. The shed can be later expanded."
Dalwinder has 50 pigs in his breeding farm, where a majority of female pigs and a few male pigs are kept and the piglets sold to fattening units. "We are using natural breeding methods but it is now possible to artificially inseminate pigs. Pigs breed very fast and in one year we can get the female pig to produce three to four times." Dalwinder's farm is producing 1,000 pigs a year, and thus he earns Rs 28-30 lakh.
COST NOT HIGH
The labour cost too is not much. The farm is handled by Dalwinder, his son, who is still studying for graduation, and a helper. "The helper stays at the farm and we are here in the day. I immunize the pigs; the worker and I are trained to handle the deliveries. We cut their outer teeth when they are young so that they don't injure one another when fighting. As for the washing and cleaning, my son does that happily," he says.
"With the kind of profits that I am getting from the pigs I am gradually reducing the cattle I have, and will shift completely to pig rearing soon. The space vacated by the cattle will be then used to have a fattening unit," he adds.
The fattening units feed household waste to the younger pigs and sell these when fully grown. "Fattening units are easier to run than breeding farms, and majority of those running piggeries in the state are running fattening units," he says.
There are almost 60 pig farms in Punjab where farmers are making a decent living.
'DON'T MISS THE TRAIN'
As secretary of the Piggery Farmers' Association, Dalwinder wants other marginal farmers to shift to piggery. "There is just no comparison of what one would have earned from cultivating the land I have. I would have got Rs 1 lakh per year from two acres. When I go to programmes organised by the government to encourage other farmers to take to piggery, I tell them that a one-kanal pig farm will give them an income equal to what they would get out of farming 42 acres of land," he says.
Dalwinder, however, warns that training is a must before one begins to deal with pigs. "A matriculate, Dalwinder trained at a government piggery in Kharar, at the PAU, and from institutes in Guwahati and Bareilly. Pigs have to be vaccinated and their health monitored assiduously since their meat is consumed. Before they enter the human chain I ensure that they are healthy. There are many who are running fattening units without any training; that is not good," he says.
Training has helped him develop a food chain involving his cows and land which reduces his input cost substantially while running the piggery. "I grow cattle fodder in the land I have. That takes care of the 14 cows I have now. The almost 100 litres of milk I get from these cattle is sold and that brings in enough money to buy the feed for the pigs. The pig waste is channelised back into the farm as fertilizer for the fodder crop. I do not use any fertiliser from the market. Whatever I sell the pigs for is almost complete profit," he says.
FISHERY NEXT
Attar Singh, Dalwinder's son, plans to expand the ambit. "It is a flourishing business and the more we grow the more we earn. We have just bought a new car (Hyundai's hatchback i10) to travel from Kurali to the farm," Attar says. "To create another self-sustaining food chain for the pigs I will need five acres of land to create a pond where I can rear fish. The weed that grows in the pond is perfect feed for the pigs. I have already tried it in a small pond but I will be taking some land on lease and starting this project."
He says fish too sells as well as pigs, "and if I bond the two in a food chain, it reduces the investment to the lowest needed".
But, for the time being, Dalwinder is the proud owner of 50 pigs who have proved to be his piggy bank. He has earned every award he has got, almost one every year since 2011, including the state award in 2014 for running the most successful piggery. He is also the member of the pig advisory board headed by chief minister Parkash Singh Badal. "Of all the other members, Badal saab knows only me by name. He is fascinated with the idea of suggesting piggery as a very profitable alternative to farming," he gushes.
---
DECODING PIGGERY
*Rs 8,000 is the cost of a fully grown pig; one can start with just one male and female each.
*6 and more piglets are born in one go, so you can have almost 10 pigs in three months.
*Rs 2,500 estimated selling price for piglet; can be fattened and sold for up to Rs 8,000
*On 2 acres, one can rear about 50 pigs at a time
*Producing about 1,000 pigs during the year, earning can be up to Rs 30 lakh
---
IN COMPARISON
Secretary of the Piggery Farmers' Association, Dalwinder Singh says, "There is just no comparison of piggery with what one would have earned from traditional cultivation." "Rs 1.2 lakh per year from two acres is the wheat-paddy cycle potential. With piggery done at full scale, a one-kanal pig farm will give an income equal to 42 acres of traditional farming," he adds.
THE INCENTIVES
*Punjab's department of animal husbandry gives free 2-3 week training at one of its piggery centres
*First set of piglets to start the farm are sold by the department at nominal rates
*Subsidy up to 25% of the cost of construction of the shed