Futuristic farmers: Making room for mushroom
Undeterred by the bad fate of experience of other mushroom growers in the area — many of whom gave up over high input cost — Mandeep Singh, in his twenties at the turn of the century, took the risky route of expansion instead.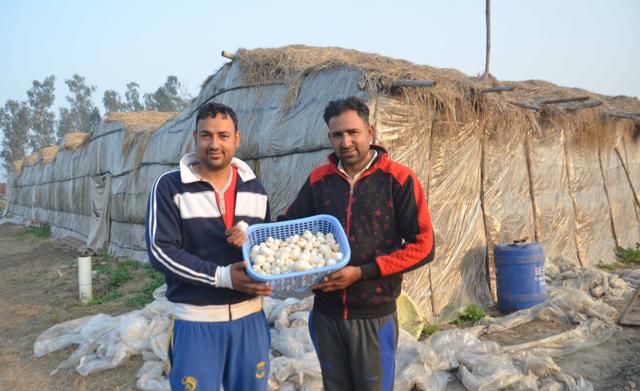 Updated on Feb 12, 2016 10:07 AM IST
Hindustan Times |
Harkirat Singh
Undeterred by the bad fate of experience of other mushroom growers in the area — many of whom gave up over high input cost — Mandeep Singh, in his twenties at the turn of the century, took the risky route of expansion instead.
The cost of labour, electricity and raw material used for laying the beds on which mushrooms grow were all rising. The nearby village of Deriwal village once had several mushroom growers but they all bowed out. And that wasn't the only discouraging sign.
Prior to 2001, Mandeep was cultivating the crop in sheds in the compound of their house in Dhardeo village, close to the religious town of Baba Bakala. Then, the crop was infected by the Wet Bubble Disease. He rushed to the Punjab Agricultural University (PAU) in Ludhiana, where experts advised Mandeep to shift the crop to a new area.
His mother, Harjinder Kaur, was rather unhappy with the advice as it was she who had taken to mushroom growing in 1989 after being inspired by some residents of Deriwal, which had by then become famous as the 'mushroom village of Punjab' where around 80 families were in the business. However, her husband, who is in the Punjab Police, and she lent support to their son on an instinct.
SHIFTING TO EXPAND
The family owned four acres of prime land on the Baba Bakala-Mehta Chowk-Batala highway, close to Buttar Kalan village, of which two were selected for the shift and expansion. Though the number of mushroom growers in Deriwal has fallen to just six, Mandeep said the growers had simply fallen behind in terms of technique.
Cut to now, and a large signboard announces 'Randhawa Mushroom Farm'; a retail counter has been set up along the highway. The mushrooms are available for four months, November to February. Bulk orders for 20-40 kg, particularly the button variety, keep flowing in during the winter marriage season that coincides with the harvest. Mandeep, with help from two younger brothers, had initially set up four sheds whose roofing was made of paddy straw and 'sarkanda' (elephantine grass). Compost beds were then laid on platforms or trays made of bamboos in each. Today there exist 12 such sheds from which mushrooms are plucked.
THE COST FACTOR
For the compost in which the mushrooms grow, the base is 'toori' (finely cut stalks of wheat after harvesting), and this over the years has become expensive due to high demand in dairy farms. The rate is Rs 300-400 per quintal.
Then there is the labour cost as the process of preparing compost is manual and so is the plucking. The plucking generally takes place at night so that by early morning fresh mushrooms are available at the sales counter, particularly for those who have asked for bulk supplies for wedding functions. So the number of workers varies according to work, from 20 to 80. Then there is also the cost of making new sheds or repairing the existing ones at the start of the season. The cost of the mushroom seed, procured from Solan in HP, and its transportation also cannot be ignored.
"The total input cost as of now is around Rs 20 lakh (for two acres, one used for sheds and other for compost preparation). In one quintal of compost, we get average yield of 20kg button mushrooms and at the farm our total production is now 50 quintals, which gets us around Rs 48 lakh as revenue if the rates are Rs 90 a kg and above." That leaves Rs 28 lakh as gross profit, but since the input cost is mostly repeated due to the precarious nature of the technique, he saves around Rs 8-10 lakh from the season. That means around Rs 4.5 lakh an acre.
This is high in comparison to wheat, which is also grown in a five-month season in the winter and sells for about Rs 29,000 an acre if one goes by a minimum support price of Rs 1,450 per quintal and yield of 20 quintals. Of this, around Rs 13,000 is the input cost, leaving hardly Rs 16,000 an acre. He makes most of his sales from the counter, while mushroom pickle is also quite popular; made from mushrooms that get damaged during plucking. Rates are up to Rs 25 per 200gm packet, which retailers sell for up to Rs 40.
NEWER TECHNIQUE
In 2014, Mandeep with the advice of PAU experts began introducing the 'Long Method Technique' of preparing compost. With a bank loan of Rs 30 lakh he introduced the technique that involved two high-tech chambers for preparing quality compost. On top of the loan, he got subsidy of around Rs 20 lakh under the National Horticulture Mission. "This technique involves cleaning of the compost with heavy-duty blowers inside the chambers. Manually, impurities including some gases remain trapped," he explains, though the till now it is in the experimental stage. "If we do this well, the yield can double," he says, adding that he has already grown the mushrooms in the 'clean' compost.
Also, PAU experts have advised him that he needs permanent shed for producing mushrooms all year. "I have seen that at Nalagarh in Himachal. Now I've applied for a loan of Rs 2 crore for that."
ANY PEEVE?
He says chief minister Parkash Singh Badal "somehow came to know about us", and he was among eight mushroom growers chosen for a meeting with Badal at his residence on February 6.
"The CM complimented us and wanted to know about the difficulties we face. I told him that we are charged commercial rates for electricity. In the sheds, lights have to be switched on 24x7 to provide the necessary heat. Then tubewells also run constantly as water has to be sprayed. We did not ask for free electricity but want to be charged the rate at which farmers would have been charged if they were asked to pay," he says. He is also unhappy at being asked for change-of-land-use (CLU) certificates, as authorities underline that his retail vend in particular is not farm activity.
Some officials of the state pollution control board also say that the compost is not suitable for the environment, he says. "And getting loans is difficult."
Math of the mushroom
*Rs 10 lakh an acre is input cost if 12 sheds are put up on an acre and one acre used for preparation
*1 quintal of compost gives 20kg mushrooms
*Rs 48 lakh is revenue from 50 quintal produce
*Rs 4.5 lakh an acre approximate profit as all input cost comes in afresh every season
*Rs 29,000 an acre is what revenue if one goes by MSP of Rs 1,450 and yield of 20 quintals.
*Rs 13,000 an acre is the average input cost, leaving hardly Rs 16,000
Tomorrow: Gat getters of Punjab
Read earlier parts of the series
Berries and melons, it's an exotic crop cycle in Punjab
Milking profit, not cattle class anymore
Spicing it up with chilli farming
Flowering mini-Holland in Punjab
Farmer who knows his onions, gave peas a chance
Close Story