School in Mohali installs lift for its only wheelchair-bound student
Hindustan Times, Mohali |
Arshdeep Arshi
Oct 31, 2017 08:30 PM IST
The lift has been installed at a cost of Rs 14 lakh.
Thirteen-year-old Vasu Bansal is excited. The school where she has studied for the last 10 years has installed a lift at its premises to ensure that she no longer faces problems in moving from one floor to the other. A Class 8 student, she also braves polio.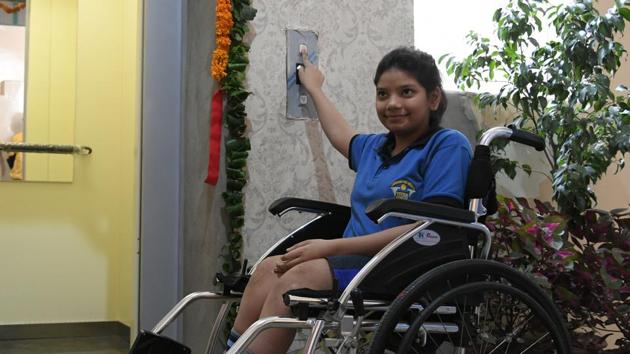 On Tuesday, she inaugurated a lift at her school that has been installed at a cost of Rs 14 lakh. "It is very thoughtful of the school management to care for me so much. For my convenience, it has installed the lift," says Vasu.
Her school, the Vivek High School, Sector 70, Mohali, has four floors. All the laboratories are in the upper floors. Besides, other school activities are also organised therein.
Speaking about the initiative, her principal, Anuradha Dua, said till now, a maid used to carry Vasu whenever she needed to go to the upper floors. "But as she is growing up, it was becoming difficult for the maid to help her," she said. For the last one year, she hasn't been able to go to the upper floors.
"Owing to space crunch, we could not construct a ramp that could allow her to move on her wheelchair. We therefore decided to install a lift so that she too can avail the opportunities enjoyed by others," the principal said.
Speaking about her school's gesture, Vasu says, "I am happy that my school was sensitive in understanding my problem. With age, I am gaining weight and movement has become difficult for me."
Vasu's father, Rajnish Bansal, is a businessman and her mother, Shivani Bansal, a homemaker. Her younger brother is a Class 6 student in the same school. The family resides in Sector 67, Mohali.
The lift will not only help Vasu, but will also be useful to the sick and injured students/faculty.
In its guidelines, the Central Board of Secondary Education says that every school should have a ramp or install a lift for the hassle-free movement of the differently-abled students.