Two murders bring turf war among Jharkhand gang lords to focus again
Updated on Dec 09, 2016 10:41 PM IST
Police believe the recent back-to-back murders of two persons with criminal records within a week in Jamshedpur were the fallout of the deadly turf wars among rival gangs.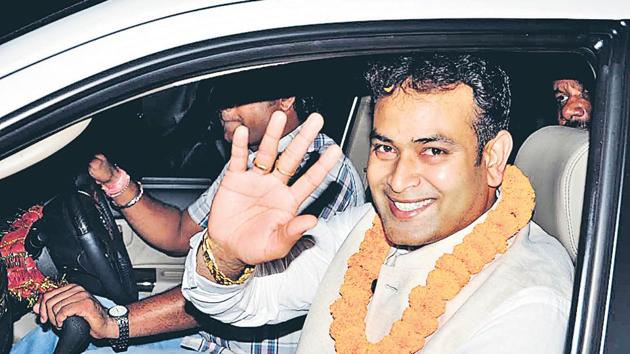 Hindustan Times |
, Ranchi
B Vijay Murty & Sanjay Sahay
Jharkhand gang lords are apparently back in action with "full force and vengeance" to dwarf their rivals.
Police believe the recent back-to-back murders of two persons with criminal records within a week in Jamshedpur were the fallout of the deadly turf wars among rival gangs.
The two slain persons were apparently running an extortion and contract-killing rackets that brought them in direct confrontation with fugitive Akhilesh Singh, who also runs a similar cartel in the area.
Singh, with 48 cases of heinous crimes pending against him, is one of the most powerful among the gang lords operating in the state.
This former cop's son has allegedly carried out half a dozen killing, prominent ones being that of a jailor and a transporter. It is alleged that his monthly income from "rangdaari" (extortion) run into several crores of rupees. His operational jurisdiction is mainly around the steel city of Jamshedpur.
According to police, there are at least 18 major gangs operating in Jharkhand. These gangs are accused of being involved in managing railway tenders, mining contracts, transportation of ore, government construction jobs, agriculture and irrigation contracts and settlement of land deals and disputes at gun point.
These trigger-friendly gangs extort huge money from the businessmen, traders, miners and contractors and do not hesitate to eliminate anyone who defies them, while the police prefer to look the other way.
To flex muscle they hire jobless youngsters in their early twenties, who nurture high ambitions of earning easy money in quick time, and groom them in criminal activities.
Paradoxically majority of these gang lords are in jail. But that does not stop them from effectively operating their gangs from behind the bars. Police, on their part, however, have put rewards ranging from Rs 1 to Rs. 2 lakh on the heads of those evading arrest.
Admitting the presence of criminal networks inside jails, inspector general (CID) Sampat Meena said, "We have to break these networks and plug the flaws in the system. It's the responsibility of the local SPs to prevent smooth passage of cell phones into prisons and regulate visitors coming to meet the gangsters."
According to information availed from the state police headquarters, there are six major extortion gangs operating in capital Ranchi alone. These gangs, identified by the name of their respective chiefs, are Anil Sharma gang, Luv Kush Sharma gang, Genda Singh gang, Sandeep Thapa gang, Bittu Mishra gang and Sushil Sharma gang. There are numerous cases of murder and extortion registered against them.
In coal-rich Hazaribag, the Bhola Pandey/ Kishore Pandey gang rules the roost but they keep getting stiff competition from Ranchi's Sushil Srivastava and other gangs from neighbouring districts.
In iron-ore-rich Chaibasa division four gangs namely Pankaj Dubey, Bimal De, Aarju Mallik and Suraj Singh are active. But since the Maoists have a strong presence in the area, the criminal gangs are not so powerful and are often overshadowed by the Left insurgents.
Coal belt of Bokaro-Dhanbad has two prominent gangs led by Shahnawaz and Fahim Khan. Their rivalry inspired the popular Bollywood blockbusters, Gangs of Wasseypur I and II. Even drought prone and Left extremist affected Palamu division has several trigger-friendly gangsters ready to kill for a few thousand rupees.
Personalise your news feed. Follow trending topics