'No Holds Barred or extreme rules match, it's about to happen': Bobby teases idea of third Lashley vs Lesnar showdown
Jan 22, 2023 07:54 PM IST
With the score tied at 1-1, Bobby Lashley is open to the challenge and teased the idea of the third installment against Brock Lesnar being more extreme.
After a wait of almost two decades, fans finally witnessed the dream match between Bobby Lashley and Brock Lesnar, which took place at Royal Rumble 2022. The booking saw Lashley get the better off Lesnar, with Roman Reigns interrupting the proceedings and costing him the WWE Championship. Following the defeat, which came under debatable circumstances, Lesnar shifted his focus towards The Tribal Chief as they chose to settle matters in a last-man standing match at SummerSlam. The result then went in Reigns favour.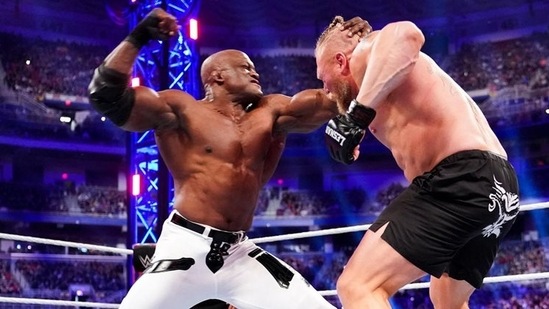 The storyline between Lashley and Lesnar renewed a few months later as the latter made a surprising appearance in Raw on October. Lesnar then launched a brutal attack on Lashley before his match against Seth Rollins with the United States Championship on the line. Rollins eventually went to snatch the title from Lashley, capitalising on the damage done by Lesnar.
Stay tuned with breaking news on HT Channel on Facebook.
Join Now
Lashley and Lesnar then met for the second time at Crown Jewel in November as the latter won the match, but not in a convincing manner.
With the score tied at 1-1, Lashley is open to the challenge and teased the idea of the third installment being more extreme. "You know the interesting thing about Brock and I. I just met Brock maybe a couple years ago. Everybody was talking about us having this matchup for probably the beginning of my career back in 2005, but we never crossed paths. When he went to MMA, I was still in professional wrestling. I went to MMA, he went to professional wrestling and we just kind off kept messing with each other and not since probably maybe a few years ago did we first meet. There hasn't been too much interaction between the two of us. We've had a few matches, a few interactions that have happened on screen, but outside of that Brock's kind of a guy that kind of keeps it to himself. So there hasn't really been anything back with Brock. I don't think anybody really had anything backstage with Brock.
"But I look forward to the matchup with him. I like the kind of contests where it can make me push myself. I like to fight. Brock likes to fight. There's a lot of similarities between the two of us, so I think that that next matchup is what everybody wants to see will be No holds barred. It's probably gonna come to a point where we're gonna get locked in a cage or an extreme rules match or something like that. But it's about to happen," Lashley told hindustantimes.com in an exclusive interview.
In his illustrious career Lashley has won several titles while working with WWE. He was also promoted as the first superstar to break former WWE star Chris Masters' deadly hold "The Master Lock" in 2007. Now Lashley is seen employing a similar move on his opponents, with the only thing separating the two submission hold is the name. Lashley calls his "The Hurt Lock".
Chris, who now fights in NWA (National Wrestling Alliance), had recently opened up on the idea of having a showdown between the two on WWE. When asked to Lashley about the same, The Almighty had an epic response. "I love it. I've seen Chris, I follow him on social media and he's been doing a lot. He's been wrestling all over the world and he's been getting better. And I think if he has an opportunity to come back, I think that would be a really cool showcase. Whether it happens at the Rumble, you never know. The Rumble always has surprises. I think Chris has kind of proved himself in the professional wrestling world.
"If he comes back, you know what I would do? I'd literally just turn around and put my hands out and tell him to put it on me again so that I can break it out for the second time. And then I'd ask him to do the same. And I guarantee you he's not breaking out The Hurt Lock. So there's a lot of things that could happen in that matchup, but I think it would be cool for the fans to see. And I did take that from him because if I break it's mine," he said.
As we draw close to WWE's first pay-per-view event of the year, the Royal Rumble, Lashley emerges as one of the strongest contenders who can go on to win the 30-man Rumble. If that is the case, then Lashley has his sights set at Reigns' WWE Universal title. "I think the Universal, I think that's the one I'll go for, because I had the WWE championship for quite a while, but I haven't had a Universal, so I think that's the one I'll probably look to take from him after I win the Rumble," he said.
Watch Bobby Lashley & Rhea Ripley LIVE on WWE Royal Rumble 2023 on Sony Sports Ten 1 (English), Sony Sports Ten 3 (Hindi) and Sony Sports Ten 4 (Tamil & Telugu) channels on 29th January 2023 from 6:30 am (IST).