Telegram app: All you need to know about the messaging service
Published on Jul 25, 2022 08:46 AM IST
In 2021, Telegram was the fifth most downloaded app in the world, according to Forbes.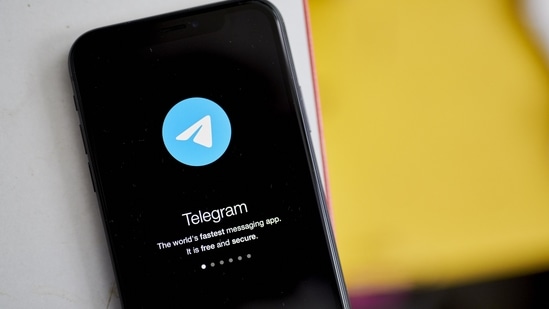 Telegram is a messaging service which was launched in 2013 (for iOS on August 14 and Android on October 20). With a focus on speed and security, Telegram has been, in almost nine years since its launch, amassed more than 700 million active monthly users and, in 2021, was the fifth most downloaded app in the world (according to Forbes).
Here are some basic FAQs answered about Telegram:
How does Telegram work?
It works on all your devices at the same time; messages are synced seamlessly across any number of phones, tables or computers. Users can send messages, photos, videos, and files of any type (such as doc, zip, mp3 etc.), and create groups as large as for up to 200,000 people, or channels for broadcasting to unlimited audience. The service also supports end-to-end voice and video calls, as well as voice chats in groups for thousands of participants.
What is the difference between groups and channels?
Groups are meant for sharing information with friends, family or collaboration in small teams; these can be for as many as 200,000 members. A group can be made public; also, you can decide if a new member should have access to earlier messages. You can also pin important messages on the top of the screen so that it is visible to all the members, including the new inductees.
A channel, on the other hand, is used to broadcast message to a very large audience. A message, posted in a channel, is signed with the channel's name and photo, and not those of the user. When the message is viewed, a 'view counter' of each message in a channel gets activated.
What all devices support Telegram?
The app can be used on smartphones, tablets, and even computers. Telegram apps are available for iOS (9.0 and above), Android (6.0 and above); there's also a native macOS app, and a universal app for Windows, macOS, and Linux. Users can log into Telegram from as many devices as they like, all at the same time. Just use your main mobile number to log in everywhere, cloud chats will be synced instantly.
How to invite friends to join Telegram?
iOS users can send basic invitations through simple SMS, or send them a link through any messaging services, including Telegram itself. The link is: https://telegram.org/faq. On Android, open the app menu (by swiping right in the chat list), then select an application through which you would like to send out invitations.
Who are the people behind Telegram?
Pavel Duvrov, a Russian-born Emirati entrepreneur, and his brother, Nikolai, are the two main brains behind Telegram. The development team is currently based in Dubai, having previously worked out of Berlin, London and Singapore.
For more information, visit telegram.org/faq.
Topics
Personalise your news feed. Follow trending topics