Telangana assembly poll: BJP will never allow any religion-based quota, says Amit Shah
Nov 26, 2018 12:11 AM IST
Addressing a series of election rallies in Telangana where assembly elections will be held December 7, the BJP president also said the Narendra Modi-led Central government had given the state enough funds but the TRS state government had squandered them.
Bharatiya Janata Party national president Amit Shah on Sunday categorically ruled out granting of reservations to Muslims in education and employment, as it was against the spirit of the Constitution.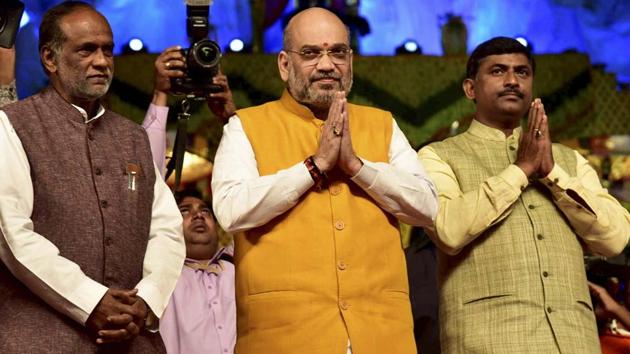 Addressing a series of election rallies at Parkal, Nirmal, Narayankhed and Dubbak in Telangana where assembly elections will be held December 7, he said that as long as the BJP was in power at the Centre, there was no question of allowing reservations based on religion.
Shah was referring to the promise made by chief minister and Telangana Rashtra Samithi president K Chandrasekhar Rao that he would ensure passage of a bill in Parliament granting 12 per cent reservations to Muslim minorities, if the TRS won 16 out of 17 Lok Sabha seats from Telangana. "How can he do that? Supreme Court has fixed a ceiling of 50 per cent on the reservations. If he has to provide 12 per cent quota for Muslims, he has to impose a cut in the percentage of reservations being provided for SCs, STs and Other Backward Classes. So, which category has to lose its quota?" he asked.
He said it was the Narendra Modi government which had constituted an exclusive commission for OBCs to take care of their welfare.
Shah claimed the National Democratic Alliance government had helped the Telangana government in a big way, by increasing the devolution of funds by five times as per the 14th finance commission recommendations. "Besides, the Centre released another ₹1.14 lakh crore to Telangana under various centrally sponsored schemes. But the Telangana government had pushed the revenue-surplus state into a debt trap by borrowing more than ₹2 lakh crore in the name of projects only to take kickbacks. He (KCR) even refused to implement the central scheme of Ayushman Bharat thereby depriving lakhs of poor people of proper health care," he alleged.
In Nirmal town, the BJP president came down heavily on the Telangana chief minister for buckling down to the Majlis-e-Ittehadul Muslimeen (MIM). "When MIM floor leader Akbaruddin Owaisi abused Hindu gods and goddesses, the TRS government did not even bother to register an FIR against him. I challenge KCR to get a case filed against Akbaruddin before December 5, if he has got guts," he said.
He assured the people that BJP will celebrate September 17 as Hyderabad liberation day as an official function after coming to power in Telangana.
Shah also blamed KCR for going in for early elections, thereby causing huge burden on the state exchequer. He reminded that the TRS chief had supported the proposal of Prime Minister Narendra Modi for one-nation-one-poll idea in the past. "He was apprehensive that the TRS would be wiped out, if there are simultaneous polls to the assembly and the Lok Sabha. This is actually an early election for KCR's family members. He wanted to anoint his son or daughter as the next chief minister if his party comes to power again," he said.
Reminding KCR of his promise of making a Dalit as the chief minister of Telangana in 2014, Shah sought to know whether the TRS chief would stick to his promise at least in 2018. "Will he announce a Dalit as the CM candidate at least in 2018 or project his son?" he asked.
The BJP president said the Congress was fast losing power everywhere in the country and it cannot win even in Telangana, even if it joined hands with the other parties. "The BJP is the only party that can provide a safe, stable and strong government," he said.