Caroline Wozniacki's long, hard road back to the top of women's tennis
Updated on Jan 28, 2018 01:31 PM IST
Caroline Wozniacki beat Simona Halep in the women's singles final on Saturday to win the Australian Open crown.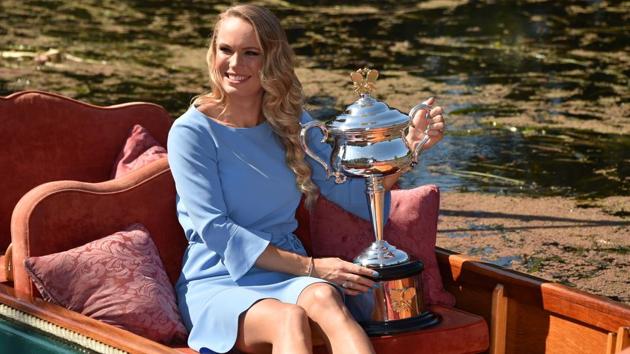 Agence France-Presse, Melbourne |
Agence France-Presse
Caroline Wozniacki said "nobody knows" how much hard work and sheer guts she had to put in before realising her Grand Slam dream.
Twelve years, 67 weeks at world number one, 149 Grand Slam matches, three major finals and countless disappointments were all made worthwhile on Saturday night when she was crowned Australian Open champion.
READ | Rohan Bopanna & Timea Babos lose Australian Open mixed doubles final
An epic 7-6 (7/2), 3-6, 6-4 win against Simona Halep in a near-three hour match in brutal heat and humidity also elevated her back to the top of the world rankings after a six-year hiatus, the longest gap in history between spells at the top.
"Honestly, nobody knows how much work, dedication you put into it," she told reporters with the winner's Daphne Akhurst Memorial Trophy by her side.
Following Wozniacki's second Slam final in New York in 2014, where she lost to Serena Williams, her fitness and form went on the slide.
Many observers believed she was finished and would retire, but the determined Dane had other ideas.
READ | Simona Halep proud of new mentality despite Australian Open defeat vs Wozniacki
"All I could tell myself was: 'You know what, you've given it everything you have. If it's going to happen, it's going to happen'."
She went into the US Open in 2016 at a lowly 74th in the world, but with her desire undiminished.
"I think just I'd been through a lot of injuries at that point," the 27-year-old reflected.
"Then you start losing to some players who you're not really thinking you should lose to. It's frustrating. I was, like, hoping eventually it's going to turn around."
'It's surreal'
Unseeded, she reached the semi-finals at Flushing Meadows that year, losing to eventual champion Angelique Kerber, and it kickstarted her climb back up the rankings.
WTA titles at Tokyo and Hong Kong followed in the next two months and she ended the 2016 back in the top 20.
"Since then I've been playing really consistent and really well," she said.
In 2017 the resurgence continued and she reached six finals, eventually getting over the finish line by retaining her Pan-Pacific title in Tokyo in September.
READ | Caroline Wozniacki beats Simona Halep to win Australian Open, maiden Grand Slam title
Her biggest win followed at the WTA Tour finals in November -- that was until Saturday in Melbourne.
"Being here tonight as a Grand Slam champion, Australian Open champion, it's very special," she said.
Wozniacki became the first Dane to win a Grand Slam and moved behind only Jana Novotna (45), Marion Bartoli (47) and Flavia Pennetta (49) for the most major appearances before claiming one.
It is 12 years since Wozniacki first came to notice, winning junior Wimbledon.
A first Grand Slam final defeat came against Kim Clijsters in New York in 2009 and on October 11, 2010 she became world number one for the first time.
Even if she hadn't won on Saturday, Wozniacki said she would be able to hold her head high.
"To be honest with you, regardless, I think I've had an incredible career. The end of the day, I think a lot of people would like to be in my position," she said.
READ | Leander Paes, James Cerretani enter Newport Beach Challenger tennis final
"Obviously adding a Grand Slam to my CV is what caps it off."
And she revealed she had received a royal seal of approval for the victory.
"I've heard from the (Danish) royal family -- they've congratulated me, they were very thrilled for me," she said as she paraded her new trophy in Melbourne's botanical gardens on Sunday morning.
"It's still pretty surreal. It's been a crazy last 10 hours or so. I think I'm overwhelmed, I had an hour and a half sleep last night," she added.