Latest from antonio banderas
Uncharted first reactions: Tom Holland and Mark Wahlberg's film has received diverse reactions from film critics. Here's what they have said.

Published on Feb 15, 2022 08:49 PM IST
Salma Hayek said there was no mention of a sex scene between her character, Carolina and El Mariachi (Antonio Banderas) in Desperado script.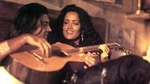 Published on Feb 16, 2021 02:52 PM IST