The action against the dance teacher came on a complaint from a former student.

Published on Apr 01, 2023 02:35 PM IST
PTI | | Posted by Yagya Sharma
'Excuse me, my son just came up, and I had not seen,' Alicia Acuna told viewers during live report.

Published on Mar 23, 2023 10:19 PM IST
Introducing himself as MLA Manoj Tiwary, a person entered West Bengal assembly duping the multi-level security.

Updated on Feb 16, 2023 08:11 AM IST
Opposition MLAs were due to meet the Speaker on Tuesday, seeking a Private Members' Day during the January session of the Assembly. However, Tawadkar refused to meet after Sardesai's remark.


Published on Dec 27, 2022 04:31 PM IST
Daughter of former chief minister of Uttarakhand Major General (Retd) Bhuwan Chandra Khanduri, Ritu Khanduri won the 2022 assembly elections by defeating Congress' Surendra Singh Negi from the Kotdwar seat by a margin of 3,687 votes.


Updated on Mar 26, 2022 04:36 PM IST
Written by Sharangee Dutta | Edited by Poulomi Ghosh
, New Delhi
The election commission is set to announce polls for the assemblies of Andhra Pradesh, Sikkim, Arunachal Pradesh and Odisha also, along with the Lok Sabha elections.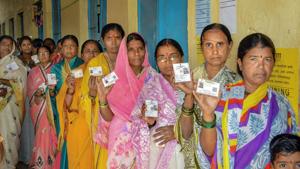 Updated on Mar 10, 2019 04:11 PM IST