Court has discharged six people from offences under IPC sections 395 and 436 in connection with the 2020 north east Delhi riots.

Updated on Aug 10, 2022 02:05 PM IST
PTI | | Posted by Lingamgunta Nirmitha Rao
The Delhi Police, in its chargesheet, said that the tensions created after the north-east Delhi riots were aggravated after the clashes on Ram Navmi in different parts of the country and led to violence in the city's north-west locality.

Updated on Jul 15, 2022 04:31 AM IST
Pathan was granted parole to meet his ailing father for four hours on May 23 on the condition that he'll only meet his parents and no one else.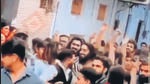 Updated on May 28, 2022 03:19 AM IST
The viral video shows crowd following Delhi riots accused Shahrukh Pathan as he reached his residence to meet his 65-year-old ailing father on four-hour parole. Slogans were also raised.

Published on May 27, 2022 12:05 PM IST
Former JNU student leader Umar Khalid was arrested in the case of the main conspiracy pertaining to the 2020 Delhi communal riots.

Published on May 26, 2022 05:09 AM IST