The farmers demand that the three contentious be repealed and a legal guarantee provided to them on minimum support price for crops. However, the government has consistently maintained that the new laws are pro-farmer.

Published on Sep 25, 2021 05:40 AM IST
Written by Joydeep Bose | Edited by Meenakshi Ray
, Hindustan Times, New Delhi
Salman Khan has reacted to the controversial farm laws and the protests that have followed. He said whatever is the most correct thing to do, should be done.

Published on Feb 05, 2021 09:35 AM IST
While addressing farmers' rally in Shahjahanpur in Alwar, Rajasthan, Beniwal said, "Bye-bye. We are quitting NDA. Nothing is above the pride of farmers in the country."

Updated on Dec 26, 2020 08:17 PM IST
Hindustan Times, Jaipur |
By
Jaykishan Sharma | Edited by Sparshita Saxena
A joint team of state government officials and the director general of the Railway Protection Force was reviewing the situation in the state, said railway board chairman and CEO VK Yadav

Updated on Nov 06, 2020 10:40 AM IST
Hindustan Times, New Delhi |
By
Anisha Dutta
A senior official, on condition of anonymity, said the draft of the bills had been prepared and sent to the law department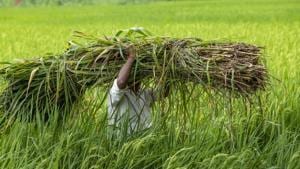 Published on Oct 22, 2020 04:53 PM IST