'It is with a sense of dismay and concern that India notes WHO's recent exercise on all cause excess mortality, where our country specific authentic data published by the statutory authority has not been taken into account,' said Mandaviya.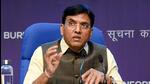 Amid all the chaos, Biden appeared to suggest that he can take the Russian leader at his word, nodding his head during a photo opportunity when asked by a reporter if Putin can be trusted.

President Rodrigo Duterte warns Philippines officials to enforce Covid-19 lockdown restrictions as swimming parties, drinking sprees and picnics held earlier this month in three resorts lead to a surge in coronavirus infections

Alrosa Spectacle or the largest diamond ever cut in Russia will soon be auctioned in Geneva. The 101 carat diamond can fetch between 12 and 18 million Swiss francs.