In a video by news agency ANI, Rahul Gandhi, donned in a jacket and a blue t-shirt underneath, was seen gliding down the snow in Gulmarg, where he has gone on a two-day personal visit.

Published on Feb 16, 2023 01:55 PM IST
While in Gulmarg, Rahul Gandhi also tried out the Gondola cable car ride. He is on a private visit to the valley for two days.

Published on Feb 15, 2023 08:25 PM IST
India's first glass igloo restaurant in Gulmarg has become a popular destination for tourists who visit the area to experience the scenic beauty.

Updated on Feb 07, 2023 12:59 PM IST
ANI | | Posted by Akanksha Agnihotri
, Baramulla
Police said the avalanche was triggered at Affarwat in Gulmarg area. On Wednesday, two polish skiers were killed when they were hit by an avalanche in Gulmarg. Police and tourism rescue teams rescued 19 other skiers.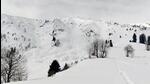 Updated on Feb 05, 2023 03:02 AM IST
The MeT department in an update said that south Kashmir's tourist resort of Pahalgam experienced a low of -7.2°C against -9.6°C on the previous night, which was its coldest night this season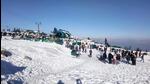 Updated on Jan 04, 2023 05:10 AM IST