A Janata Dal (Secular) leader, Prashant Nagaraj, who was a member of the Hassan City Municipal Council, was hacked to death in Hassan city on Wednesday evening after which police have raised security around the Hassan mortuary.

By
Yamini C S | Edited by Chandrashekar Srinivasan
The man she was in a relationship was arrested in an abduction case shortly after the couple was tracked down after eloping, said police.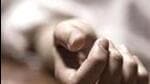 A man identified as Jaheer Pasha, who was addicted to watching porn, has reportedly killed his wife by stabbing her multiple times in front of their kids in Ramanagar on Sunday.
Police have arrested a 48-year-old woman for allegedly killing her husband with an iron rod after a domestic row in the early morning hours of Sunday in Andrahalli area.

A 30-year-old agricultural labourer from the Jakkasandra village was nabbed by police for allegedly killing her husband by smashing his head with a stone in their home on Tuesday.