Nayanthara's 02 teaser shows her as a mother, trying to save her ailing son and others as their bus falls into a pit. It is directed by GS Viknesh.

Delhi government data shows that on Saturday, of 3,705 active cases in the city, only 101 Covid-19 patients were admitted to hospitals. This means that nearly 99% of Delhi's 9,489 hospital beds are vacant.

Replying to supplementaries during the Question Hour, Minister of State for health and family welfare Bharati Pravin Pawar said, "Twenty states/UTs have responded and none of these have reported confirmed death due to oxygen shortage."

In response to a question from the BJP's Mahesh Poddar, Union minister of state for health Bharati Pravin Pawar told Rajya Sabha that none of the states/UTs have reported deaths due to oxygen shortage

Mumbai has 22,222 active beds for Covid patients (including oxygen, ICU and ventilator beds) in 186 private and public hospital facilities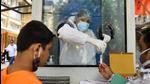 By
Mehul R Thakkar
, Hindustan Times, New Delhi