Mukesh Ambani-led Reliance's Independence brand to compete with Adani Wilmar in edible oil, grains and pulses; Patanjali Foods in biscuits, edible oil, packaged atta; Parle and Britannia in biscuits; Tata Consumer in pulses, packaged water; and ITC in packaged atta, biscuit.


Published on Dec 18, 2022 04:19 PM IST
PTI | | Posted by Singh Rahul Sunilkumar
"We are pleased to inform you that Swami Ramdev Ji Maharaj will address an important press conference on 16th September 2022 in New Delhi," Patanjali said in a statement.


Updated on Sep 15, 2022 04:18 PM IST
Written by Harshit Sabarwal | Edited by Aryan Prakash
, New Delhi
Ramdev said these companies are Patanjali Ayurved, Patanjali Wellness and Patanjali Medicine and Patanjali Lifestyle. The companies will be listed on the stock exchange during the next five years.


Updated on Sep 11, 2022 10:26 PM IST
According to the company statement, Ruchi Soya Industries registered a revenue growth of 48.22 per cent which jumped to ₹24,284.38 crores against the figure of ₹16,382.97 crore in the previous year.

Published on May 27, 2022 09:23 PM IST
The company's profit before tax stood at ₹295.69 crore and profit after tax at ₹234.43 crore.

Published on May 27, 2022 02:25 PM IST
The stock zoomed 9.59 per cent to settle at ₹1,186.85 on the BSE. During the day, it rallied 10 per cent to ₹1,191.30.


Published on May 19, 2022 07:11 PM IST
In a regulatory filing, Ruchi Soya informed that it has entered into a "Business Transfer Agreement" with Patanjali Ayurved Ltd to acquire the food retail business of the latter as a going concern on a slump sale basis.


Published on May 19, 2022 07:02 PM IST
Ruchi Soya is a part of yoga guru Baba Ramdev-led Patanjali Group. Patanjali acquired Ruchi Soya Industries Limited through an insolvency process in 2019.


Published on May 18, 2022 03:30 PM IST
Unveiled on the robust RuPay network, the credit card is offered in two variants - PNB RuPay Platinum and PNB RuPay Select'


Published on Feb 04, 2022 09:00 PM IST
Patanjali had acquired the erstwhile bankrupt firm in 2019 for around ₹4,350 crore through an insolvency and bankruptcy code (IBC) process.


Published on May 27, 2021 12:11 AM IST
This comes days after the company relaunched its medicine as the "first evidence-based medicine for Covid-19."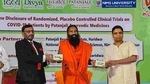 Published on Feb 23, 2021 01:32 AM IST