When in Guwahati, don't miss these authentic dimsums
There could not be a better way to spend a winter evening in Assam's Guwahati, than to enjoy a variety of unique and authentic dimsums with delicious fillings, served with innovative dips.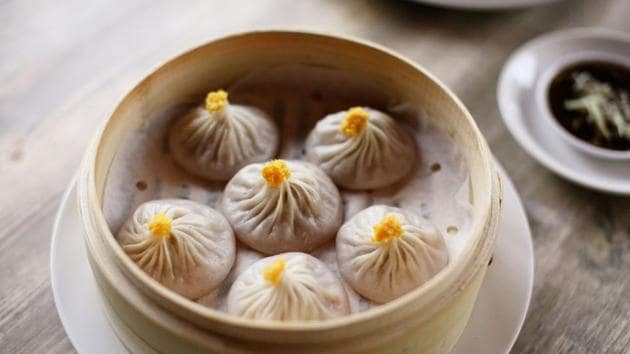 Published on Nov 20, 2018 01:24 PM IST
Guwahati | By Indo-Asian News Service
The dip in the mercury level during the day and foggy evenings have set the tone for a perfect get together of friends and old buddies. And what else does one need if the menu is topped with some hot and steaming dimsums, which will not only help one open up one's heart but also tantalise the taste buds?
The Legacy restaurant of the Hotel Palacio in Guwahati is offering Dimsum Affairs, with a variety of unique yet authentic dimsums for their guests this winter. While the premium business-class hotel has retained the authentic taste of the dimsums, there is also a new twist as they are baked in the tandoor and served with innovative dips, with black beans, red bellpepper and peanut butter, among many more, as the base.
"Dimsums, once considered a snack for rural farmers taking respite in tea houses, is now a staple in Cantonese cuisine. Today, dimsums, which translates into 'touch the heart', are known around the world. From five-star restaurants to family-owned street stalls, these dainty parcels of dough with delectable fillings are in demand everywhere," the hotel's Executive Chef, Atanu Ghosh, said.
+ +
He said that with a wide range of dimsums on offer in the menu, there could not be a better way to spend a winter evening. Ghosh, and Sous Chef Ranabir Dey, have created an interesting choice of dimsums, momos and siu mai.
"Diners can select from a la carte offerings that include both vegetarian and non vegetarian verieties -- pak choy and mushroom momo, basil chicken momo, galangal prawn momos and the like. One can also chose from the range of sizzling momos served with noodles or rice. Basa and waterchestnut dumplings, prawn hargow, chicken kothe and chicken siu mai are a must-try," Ghosh explained.
"We opened Dimsum affairs on Friday (November 16) and the response is tremendous. On the first day itself, we dished out close to 45 servings of dimsums within two hours. The guests tried the different varieties and it's great to see such response to one's hard work," Ghosh said, also appreciating the efforts of Dey, who has worked in Delhi's Hauz Khas village.
The Legacy restaurant has been organising at least one food festival every month to offer greater choices to customers as well as to break the monotony.
"We have kept the price below the regular price. It is said that the best way to a person's heart is through his stomach and we want to touch the hearts of our customers, giving them satisfaction for each rupee they spend here," said Dey, adding that Dimsum Affairs will continue for one month.
Close Story