Cat being embraced by two black puppies on the street is too cute to miss
Published on Mar 06, 2022 06:34 PM IST
A video posted on Reddit of a cat being embraced and cuddled by two black puppies on the street is really too cute to miss.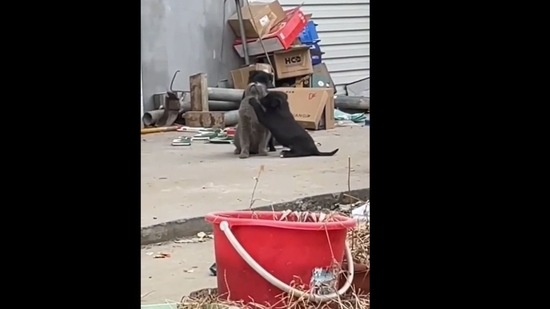 Cats are generally afraid of dogs on the street and run away and hide after seeing one. Sometimes, however, animals really surprise with their behaviour and cute acts which are opposite from the norm. Like this video shared on Reddit, which shows a cat being cuddled by two black puppies. The video will definitely make you go 'aww' and leave you feeling warm.
In the video, a grey coloured cat is being embraced and cuddled by two black puppies. The cat looks like it is enjoying the attention from the puppies and it is not trying to move or get away from them. This video will melt your heart.
The video was uploaded on Reddit 18 hours ago by a user named vladgrinch.
"Puppies really love this cat," says the caption of the video.
Watch the video below:
"The cat don't mind the attention either," a user commented on Reddit. "Probably an uncle cat that has to babysit the puppies for the parents," posted another. "Yeah, he seems pretty okay with the slobbers," said a third. "The puppies are still too weak to actually hurt, when they get bigger the cat will be less tolerant," commented another.
What are your thoughts about this adorable video?
Personalise your news feed. Follow trending topics