Indian mom tries pretzels in Germany for the first time. Viral video shows her reaction
Jan 30, 2023 01:02 PM IST
The viral Instagram video captures an Indian mom trying a pretzel for the first time and sharing her honest feedback.
Every now and then, the Internet dishes out videos that capture people trying food items from countries other than their own and sharing their honest feedback. And this is just what is shown in this video. Shared on Instagram, the clip shows an Indian mom trying a German snack for the first time. Her reaction, when asked about an honest review by her daughter, has gone viral.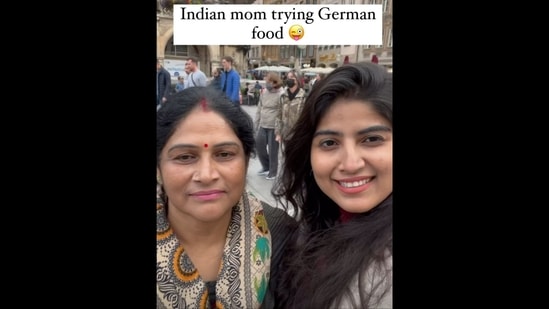 (Also Read: Foreigner sings Lata Mangeshkar's Ajeeb Dastan Hai Yeh in Paris, people heart it)
The video was shared by Instagram user Kaveri. According to her bio, she is a blogger and is currently living in Germany. "Wait for the end. Ab samajh jao (understand now) but pretzels are still my favourite. Yes, yes. I took some time to like it too," read the caption of the video shared on Instagram. The video opens with a text overlay that reads, "Indian mom trying German food. " It then progresses to show Kaveri recording her mom eating a pretzel and saying, "Mummy kafi had tak German ban chuki hain. Inko vacation aur trip par pretzel khilaya ja rha hai. Kesa lag rha hai mummy? (Mummy has become German to a large extent. She is being fed pretzels on vacations and trips. How are you feeling mummy?)" To this, her mom replies, "Theek hi thaak hai (It's okay)." Towards the end, Kaveri inquires if the pretzel tastes like roti (chapati), and this time she says, "Theek hi thaak hai. Matlab samajh jao (It's okay. Understand it now)."
Watch the video below:
Since being shared on January 17, the video has collected over 2.2 lakh likes and the numbers are still increasing. The share has also prompted many to post their thoughts in the comments section.
(Also Read: Man carries specially-abled friend on his back to watch Shah Rukh Khan's Pathaan in theatre)
Here's how people reacted to the video:
"Butter Pretzels are better," posted an individual. "This is sweet of her to try. What a cute moment!" wrote another. "My favorite is 'Pfefferbreze', it's just awesome, if you get it from the right bakery," shared a third. "German Jalebi," joked a fourth. "Aunty ko taste acha nhi lga, means theek thaak hai (Aunty does not like the taste, means it is fine)," commented a fifth. "Aunty ke expressions se pata chal gaya (Aunty's expressions say it all)," remarked a sixth.