Bigg Boss 14 Premiere Highlights: Jaan Kumar Sanu rejected, Pavitra Punia enters Bigg Boss house
Oct 04, 2020 12:49 AM IST
Bigg Boss 14 premiere episode highlights: Salman Khan has again opened a new season of his popular reality show, Bigg Boss 14, with a fresh list of contestants that includes TV couple Rubina Dilaik and Abhinav Shukla, actor Eijaz Khan, south actor Nikki Tamboli, Naagin actor Jasmin Bhasin, singer-model Sara Gurpal and Guddan Tumse Na Ho Payega actor Nishant Singh Malkhani. The house has been designed by Omung Kumar and the Covid-19 pandemic finds an echo with the show offering entertainment to its contestants which have been starved of it amid the pandemic.Bigg Boss 14's theme this season is 'ab scene paltega (the scene will change)', in line with the ongoing coronavirus pandemic. To spice up things, past fan favourites such as Sidharth Shukla, Hina Khan and Gauahar Khan are inside the house as they decide whether the contestants should enter the house or whether they should be rejected. They will stay inside for 15 days and will decide whether the contestants should be confirmed or not. Stay tuned for all the updates from the Bigg Boss 14 grand premiere episode:
12.15 pm IST
Rahul Vaidya given secret task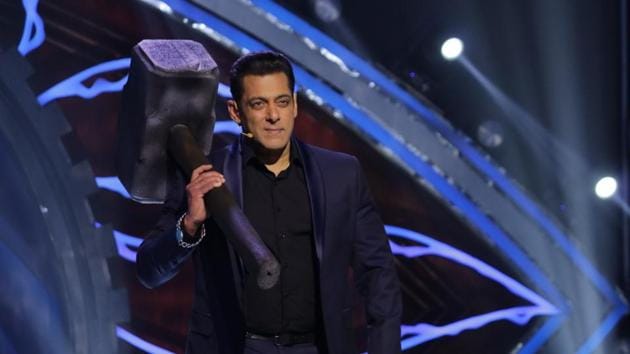 Rahul is selected by Sidharth, Hina and Gauahar to enter the Bigg Boss house. He is given a secret task to earn the privilege of sleep. He is asked to get a kiss on the cheek from a female contestant in the presence of an eyewitness, failing which he will not be allowed to sleep.
12.09 pm IST
Astrologer shares prediction about Rahul Vaidya's love life
Rahul asks the in-house astrologer about his love life. The astrologer said that many women will come and go in his life, but he will have an arranged marriage. He added that Rahul might find someone in Bigg Boss 14 but it will not result in marriage.
12.05 pm IST
Salman Khan pays tribute to SP Balasubrahmanyam
Salman paid tribute to late singer SP Balasubrahmanyam, whose song was performed by Rahul on the Bigg Boss 14 stage. Salman said that he is standing here because of the music legend.
12.03 pm IST
Rahul Vaidya reveals that he has been offered every season of Bigg Boss
Singer Rahul Vaidya revealed that he has been offered every season of Bigg Boss, right from the first. However, he was always busy with shows and could not take up the offer. He sang a medley of Salman's songs, including Dil Diyan Gallan and Chunari Chunari.
11.57 pm IST
Radhe Maa blesses Bigg Boss house
Self-styled godwoman Radhe Maa entered the Bigg Boss house when no one was in it and blessed every corner. She hoped for the new season to become very successful.
11.52 pm IST
Pavitra selected after some deliberation, Jaan gets rejected
Pavitra gets selected after Hina and Sidharth vote in her favour. Gauahar felt that she would be able to handle rejection better. Jaan gets rejected.
11.35 pm IST
Pavitra Punia dances up a storm
Pavitra Punia said that she has done everything on her own terms, whether it was giving up a career as a flight attendant to be in the entertainment industry or going against her family to be an actor. She made an entry to Tip Tip Barsa Pani.
11.32 pm IST
Jaan Kumar Sanu reveals his father's reaction to his participation in Bigg Boss 14
Jaan Kumar Sanu said that his father, singer Kumar Sanu, was shocked to hear that he was planning to go on Bigg Boss 14. "Unka scene palat gaya (His scene changed)," Jaan laughed.
11.26 pm IST
Nishant and Sara rejected by Sidharth, Hina and Gauahar
While Shehzad was given the green signal by Sidharth, Hina and Gauahar, Nishant and Sara did not make the cut.
11.24 pm IST
Nishant woos Sara with a poem
Nishant tried to impress Sara with a poem he came up with on the spot. Although she was not entirely impressed, she chose him over Shehzad.
11.20 pm IST
Salman Khan rejoices at astrologer's prediction about his wedding
Salman Khan was in for a pleasant surprise while introducing contestants at the premiere episode of Bigg Boss 14. Salman candidly asked the featured astrologer on the show, Pandit Janardhan, if there was any chance of him getting married now, and the answer had him laughing out loud with happiness. Read the full story here.
11.15 pm IST
Shehzad tells Sara, 'You look like a duck'
Sara is asked to test Nishant and Shehzad on three aspects - action, entertainment and romance. Nishant beats Shehzad hollow in the first round, as they arm-wrestle. In the second round, they dance around a pole. The third round has the two men wooing Sara. Shehzad takes out two tiny swan figurines from his pockets and tells Sara, "You look like a duck," leaving everyone on stage in splits.
11.10 pm IST
Sara Gurpal sings Tu Chahida
Singer, model and actor Sara Gurpal is the new contestant on Bigg Boss 14. She sang her popular song, Tu Chahida.
11.07 pm IST
Shehzad wants to take Hina on a date
When asked to choose one person out of Gauahar Khan, Hina Khan and Salman Khan to take on a date, Shehzad chose Hina.
11.05 pm IST
Nishant says he does not like Sidharth's aggression
Nishant said that while aggression is not bad, and is sometimes needed to maintain self-respect, one should not lower standards when the temper rises. He said that Sidharth would sometimes forget about this while talking to women. He is unaware that Sidharth is listening in from the Bigg Boss house.
11.00 pm IST
Shehzad Deol calls himself 'son of sardar'
Shehzad Deol, a model from Punjab, is the new contestant on Bigg Boss 14. He said that he is inspired by Waris Ahluwalia and Diljit Dosanjh and wants to be the next turbaned star in the entertainment industry.
10.53 pm IST
Nishant Singh Malkhani introduced as new Bigg Boss 14 contestant
Nishant Singh Malkhani is the new contestant on Bigg Boss 14 contestant. He said that he can be over-adjusting for people he likes and for those whom he does not like, he will not adjust even a little. He added that he is entering the show to test how much he can adjust.
10.49 pm IST
Jasmin Bhasin enters Bigg Boss house after passing Sidharth, Hina and Gauahar's test
Jasmin Bhasin entered the Bigg Boss house after passing the test of Sidharth, Hina and Gauahar. Gauahar asks Jasmin to answer questions without responding to anything Hina and Sidharth are doing. Sidharth breaks glass bottles on Jasmin's head and Hina cuts her hair.
10:45 pm IST
Abhinav Shukla enters house, wife Rubina rejected
While the three special audience comprising Sidharth Shukla, Gauahar Khan and Hina Khan decide to reject Rubina Dilaik, husband Abhinav Shukla is allowed to enter the house. Salman Khan puts a stamp saying 'rejected' on Rubina's forehead as Abhinav goes on to meet the 'secret audience'.
10.33 pm IST
Rubina and Abhinav reveal that the lockdown was trying for them
Rubina and Abhinav must deal with some 'heavy missiles' - they are grilled by journalists before they can enter the Bigg Boss house. Abhinav said that he does not like Rubina's multi-tasking. She said that he does the work she asks him to do at his own pace and in his own way. Rubina and Abhinav are asked about rumours of trouble in their marriage. Abhinav says that the lockdown was a testing time for everyone, including them, but they have moved on from it.
10.23 pm IST
Rubina Dilaik and Abhinav Shukla reveal their love story
Rubina Dilaik and Abhinav Shukla arrive on Bigg Boss 14 in style, with a performance to Akh Lad Jaave. They revealed that they barely acknowledged each other when they shot for Chotti Bahu together. They reconnected six years later, at a friend's Ganesh Chaturthi celebration.
10.15 pm IST
Nikki tries to seduce Sidharth, enters Bigg Boss house
Nikki is given a task by the former Bigg Boss contestants to seduce Sidharth and convince him to marry her. She is allowed to enter the Bigg Bouse house but reminded that she is in TBC (To Be Confirmed) status and will be evaluated in the next two weeks.
10.07 pm IST
Eijaz Khan reveals story behind his nickname Gabbar
Eijaz said, "Daddy ne bola kisi ke baap se nahi darna, mai abhi bhi nahi darta (Daddy had asked me not to be afraid of anyone. I still don't fear anyone)." He also revealed the story behind his nickname, Gabbar, and the Sholay connection. Read the full story here.
10.02 pm IST
Rubina Dilaik and Abhinav Shukla quizzed about rumours of a fight
In a small teaser before the first commercial break, Rubina Dilaik and Abhinav Shukla are introduced as the next contestants. They are questioned about rumours of trouble in their marriage. The brief teaser also showed Nikki Tamboli's attempt to seduce Sidharth Shukla.
9.59 pm IST
Nikki wins first 'task', she and Eijaz selected by Sidharth, Hina and Gauahar
Salman said that Eijaz and Nikki will be tested on their BBQ (Bigg Boss Quotient). They will have to put their hands in a bowl of muddy water and find a medal first. Nikki wins the task. The 'special audience' - Sidharth, Hina and Gauahar - rule that Nikki is entertaining and select her. Eijaz is also unanimously given the green signal.
9.56 pm IST
Salman jokes about his marriage
An astrologer joins Bigg Boss 14 through video conferencing. Salman teases the astrologer and says that he had predicted six years ago that the actor would get married the following year. The astrologer then tells Salman that the time for him to get married has passed.
9.53 pm IST
Nikki finds a cure to Eijaz's 'touch' problem
Salman jokes that Eijaz has a problem with touching. Nikki says that there is a simple solution and dances to Zara Zara Touch Me with him. Salman then says that Eijaz's 'touch-o-phobia' is cured.
9.50 pm IST
Nikki Tamboli promises to be an entertainer in Bigg Boss 14
Nikki says that she is 'young and bubbly', so the audience will relate to her. She promises to bring the entertainment quotient to Bigg Boss 14.
9.47 pm IST
Salman quips that Eijaz has fallen for Nikki's charm
Salman quipped that boys cannot help flirting with Nikki and joked that Eijaz has already fallen for her charm. "Phas gaye na?," Nikki laughs.
9.42 pm IST
Nikki Tamboli introduces herself as a heartbreaker
Nikki Tamboli, the second contestant on Bigg Boss 14, makes a smashing entry with a dance performance to the song Dilbar. In her intro video, she calls herself 'hot and sexy', and says she has broken a lot of hearts and will continue to do so.
9.36 pm IST
Eijaz Khan introduced as first contestant on Bigg Boss 14
TV actor Eijaz Khan is introduced as the first contestant on Bigg Boss 14. His intro video is followed by a dance performance on Tera Baap Aaya. Eijaz and Salman seem to have an old connection. Eijaz starred alongside Salman's brother Sohail Khan in Maine Dil Tujhko Diya.
9.34 pm IST
Radhe Maa makes blink-and-miss appearance
Before the contestants were introduced, the show teased a glimpse of controversial godwoman Radhe Maa. In a blink-and-miss shot, she appears to be performing a puja for the house.
9:31 pm IST
Gauahar grilled about her tweets on Sidharth
Gauahar explains her old tweets on Sidharth, when he was a contestant on Bigg Boss 13. She had called him a 'galli ka gunda (hoodlum)' who has no manners. She later revealed that she has two complaints against him - he does not listen to anyone else, claiming he is always right, and his abusive language.
9:28 pm IST
Salman teases Gauahar about her relationship with Kaushal Tandon
Hina is put in the witness box and asked questions about Gauahar and Sidharth. Hina chooses Gauahar when asked which of the two handled personal relationships on the show better. Explaining her answer, Hina says Gauahar even left the show for her friend. Hina was referring to Gauahar leaving Bigg Boss 7 for Kushal Tandon, although she returned later. Salman teased Gauahar and said, "Ghar ke bahar bhi rishta nibhaya (She maintained the relationship outside the show too)." Gauahar, who was in a relationship for Kushal for a year and a half, laughed and agreed.
9:22 pm IST
Gauahar, Hina, Sidharth will decide who will stay in Bigg Boss house
Sidharth will hold power over the bedroom, Gauahar will oversee the kitchen and Hina will keep the contestants' personal belongings for the next 15 days. The 'Toofani Seniors' will decide which of the contestants will move from To Be Confirmed to the next stage of the game.They will get 15 days to make up their mind. Those who don't make the cut will have to leave the Bigg Boss house.
9:20 pm IST
Hina, Gauahar, Sidharth's old Bigg Boss footage shown
To give new Bigg Boss contestants an idea of what they are up against as soon as they enter the house, old footage from the respective seasons of Hina Khan, Sidharth Shukla and Gauahar Khan is shown. While Sidharth and Gauahar won their seasons, Hina was the first runner-up. The three say that while they were following rules the last time, they will make them in Bigg Boss 14. The three also give performances and also issue warnings for those entering the house.
9:10 pm IST
Sidharth Shukla, Hina Khan, Gauahar already in the house
Hina Khan, Sidharth Shukla and Gauahar Khan are already inside the Bigg Boss house, ready to welcome the new contestants. The trio will form the rules and take over the house for the first 15 days. Their old rivalries will come to fore as they muddy the waters for the new members. Meanwhile, the live audience has been replaced by old footage from awards' shows and a screen comprising audience members. Salman Khan also gave a nod to
9:00 pm IST
Salman Khan begins Bigg Boss 14 , hammers through 2020's troubles
Salman Khan is here with a fresh season of Bigg Boss 14. He promises to give a suitable response to 2020's troubles. The episode also showcases what went into making of a Bigg Boss season during the coronavirus pandemic.
8:50 pm IST
Full list of Bigg Boss 14 contestants
As a fresh season of Bigg Boss begins, here is a full list of contestants expected to enter the show shortly. From TV stars to singers, there is an interesting mix that awaits audience inside the house. Read the list here.
8:40 pm IST
Nikki Tamboli flirts with Salman, leaves him in splits
South actor Nikki Tamboli has the show's host Salman Khan in splits as she tried to woo him in the episode. The self-confessed 'hot and sizzling' actor said she has especially learnt flirting ahead of her entry in Bigg Boss. As she tried the moves on the actor, he couldn't help but laugh. She said she was single and warned everyone that she is here to win it.
8:25 pm IST
Sidharth, Hina, Gauahar to stay in the house
Sidharth Shukla, Gauahar Khan and Hina Khan are inside the Bigg Boss house as 'Toofani Seniors' who will test the capabilities of the new contestants. They all also take over the reins of the house for the first 15 days and make important decisions. They will not only crank up the heat in the house but will also air old grievances against each other.
8:10 pm IST
Take a peek inside Bigg Boss house
Ahead of the Bigg Boss 14 premiere, here's a peek inside how Covid-19 has changed the Bigg Boss house. From a spa to a theatre to a mall, the makers are providing the contestants with everything that they couldn't get a locked down world due to the pandemic.
#BiggBoss14 ke ghar mein pehli baar, kar diya gaya hai gharwalon ke entertainment ka bhi intezaam! #BB14GrandPremiere tonight at 9 PM, only on #Colors.
Catch #BiggBoss before TV on @VootSelect. @BeingSalmanKhan #BB14 @plaympl #DaburDantRakshak @TRESemmeIndia @LotusHerbals pic.twitter.com/wOJZYXi3AZ

— Bigg Boss (@BiggBoss) October 3, 2020
7:50 pm IST
Will Bigg Boss 14 be the most successful season?
Will the months of being trapped in our houses during the lockdown give us a different perspective of the contestants' behaviour, teaching us to view these situations through an entirely different lens? Bigg Boss 14 seems to be more relevant than ever before, rather than escapist voyeurism, as our new normal finds a reflection on the show. Do meltdowns over eggs and a cup of tea look like reasonable behaviour? Read our opinion here.
7:30 pm IST
5 things to expect from Bigg Boss 14 premiere
From the entry of Radhe Maa to an intense grilling of Bigg Boss 13 winner Sidharth Shukla, the premiere episode of Salman Khan show has a lot to offer. We bring you five highlights of the Saturday episode and this goes beyond the dance performances. Read them here.
7:00 pm IST
Sidharth Shukla-Gauahar Khan's war of words
Gauahar Khan and Sidharth Shukla's face-off seems to be one of the highlights of Bigg Boss 14's premiere episode. Gauahar, who has been quite open about her criticism of Sidharth, tells him on the episode, "Hashtag gali ka gunda, baat karne ki tameez nahi (a hoodlum who doesn't have manners)." She says she has a problem with abusive words, to which Sidharth says that he was on Bigg Boss 13 as he is in life. Gauahar, Sidharth, along with Hina Khan, would be the seniors who would spice up the situation for new entrants to the Bigg Boss house. Read more details here.