F.R.I.E.N.D.S celebrates 20 yrs, we rank 20 best episodes! Did your favourite make it?
To celebrate these 20 years of gut-hurting laughter and moments that brought about so many sob-fests, we have undertaken the next-to-impossible task of listing the 20 best episodes of the series. Is your favourite in the list?
tv
Updated: Sep 22, 2014 22:25 IST
It has been two full decades since the most iconic sitcom in the history of television aired for the first time. Two decades of Ross and Rachel's relationship which gave 'it's complicated' the meaning it has today. Two decades of Monica's OCD, Chandler's sarcasm, Joey's 'how you doin?' and Phoebe's …umm… weirdness. And to celebrate these 20 years of gut-hurting laughter and moments that brought about so many sob-fests, we have undertaken the next-to-impossible task of listing the 20 best episodes of the series. Is your favourite in the list?
20. The One with Ross's Inappropriate Song (Season 9)
Ross's rendition of Baby Got Back was funny and cute at the same time. The episode was special because for the first time we got such a precious window into the 'could-be' life of Rachel and Ross with Emma if they were ever to get together. What amazing parents would they be, dancing and spanking each other in front of their infant child…wait, WHAT!
19. The One With The Routine (Season 6)
Whenever you saw Ross and Monica together, did you ever feel that you want the same sort of a relationship with your siblings when you grew up? We sure did. They go to a fake New Year party in this one and pull this in front of about 50 people. Do you recall asking your brother to practice your own routine in case of any 'dance party' emergencies.
18. The One With The Baby On The Bus (Season 2)

We see them outdoors for the first time in this one. Chandler and Joey are given the responsibility to take care of Ben for a day and sure enough, they mess it up. They leave Ben on a bus while flirting with some women and what ensues is HILARIOUS, especially this scene:
17. The One With The Holiday Armadillo (Season 7)
Chandler may be the one with all the jokes but somehow it was always Ross who would make you laugh the most. Like in this episode where he tries to tell his son of the history of Hanukkah and got into the costume of an armadillo, looking like this:
16. The One With the East German Laundry Detergent (Season 1)
The first time we see Rachel reciprocate feelings for Ross. She kisses him and he, being Ross, smacks his head against the washing machine door and falls like the cutest idiot. Such an 'aww-inspiring' moment.
15. The One With Superbowl - Part 1, 2 (Season 2)

Stars here, stars there. We had Monica and Rachel fighting like teenagers after Jean Claude Van Damme and Chandler hooking up with Julia Roberts. It doesn't end so well for him but he got to kiss Julia anyway, he shouldn't complain.
Also read:10 best lines that F.R.I.E.N.D.S' Joey said, and they make sense!
14. The One With The Rumour (Season 8)
Just one argument: Jennifer Aniston and Brad Pitt. Together. One and only time ever. Team Jennifer's only solace ever since he left her for Angelina Jolie. OK, I am depressed again.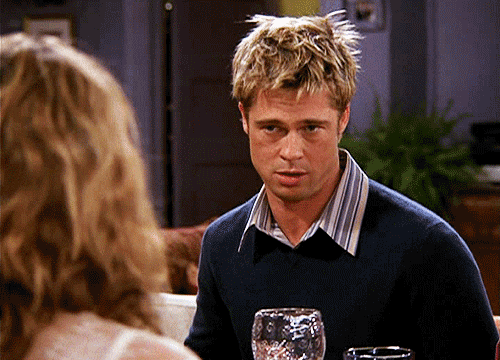 13. The One With Embryos (Season 4)

"THAT'S NOT EVEN A WORD!" Monica's most remembered dialogue comes from here. Chandler and Joey challenge Rachel and Monica for a quiz competition (Winner gets to keep Monica's apartment or get rid of the chick and the duck) where Ross is the quiz master. The girls lose when Rachel says that Chandler is a 'transposter', hence Monica shouting: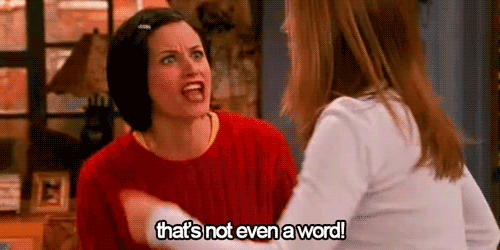 12. The One With All The Resolutions (Season 5)
Ross buys leather pants. Ross wears leather pants to a date. They shrink from all the sweat. Joey tells him to use talcum powder. Doesn't work. Joey tells him to use lotion. This happens:
11. The One Where Rachel Finds Out (Season 1)
Chandler blurts out that Ross loves Rachel. She can't stop thinking about him now. She imagines kissing him, thinking of how things will be if they were together. Pehla Nasha would be such a perfect background song for this episode.
10. The One Where Ross Finds Out (Season 2)

In a drunken haze, Rachel tells Ross's answering machine that she is 'over him'. He hears it with her on his shoulders, trying to snatch away the phone. He wonders when she was 'under him'. And the episode ends with this scene, enough to make every 'Lobsters fan' go week in the knees.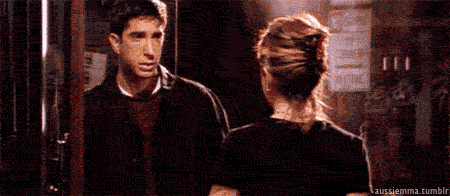 9. The One Where Joey Moves Out (Season 2)
When we were young, we all had our one Joey or Chandler. Two boys who are best friends, inseparable, 'ye dosti hum nhi todege type'. And more often than we would like to accept, we had many fallouts with our Joey/Chandler. That is what happened in this episode. But before moving out Joey did this and let the tear taps run at full capacity:
8. The One With Ross's Wedding (Season 4)

Ross is about the get married for the second time (and divorced for the second time) in London with Emily and for the first time we think that maybe Ross is finally over Rachel. We are depressed and hopeless that now there is no way him and Rachel stand a chance. But while saying his vows, this happens:
7. The One Where Everybody Finds Out (Season 5)
This is where "they don't know that we know that they know!" Phoebe and Rachel find out that Chandler and Monica are an item and try to have some 'fun of their own'. Phoebe flirts with Chandler and looks so cute in his misery. This is also the first time him and Monica say 'I love you' to each other.
6. The Last One (Season 10)
Like a quintessential romantic movie, the series ends with Ross and Phoebe trying to stop Rachel before she boards the flight to Paris. They couldn't stop her but when he get home, she is there. Hence giving the catharsis to their relationship and the show too. Chandler and Monica have twins and Phoebe is already married while Joey is left with Joey (a spin-off show that bombed miserably).
5. The One Where Rachel Has A Baby (Season 8)
Rachel has the cutest baby ever and makes all the ladies so jealous of her. This was the third birth in the series and very, very emotional.
4. The One With The Triplets (Season 5)
None as emotional as this one though. Phoebe may be all degrees of crazy but man can that woman make us cry like a baby. She talks to her infant triplets who will all be taken away from her and the sheer sadness in her goodbye can thaw even the most frozen of hearts.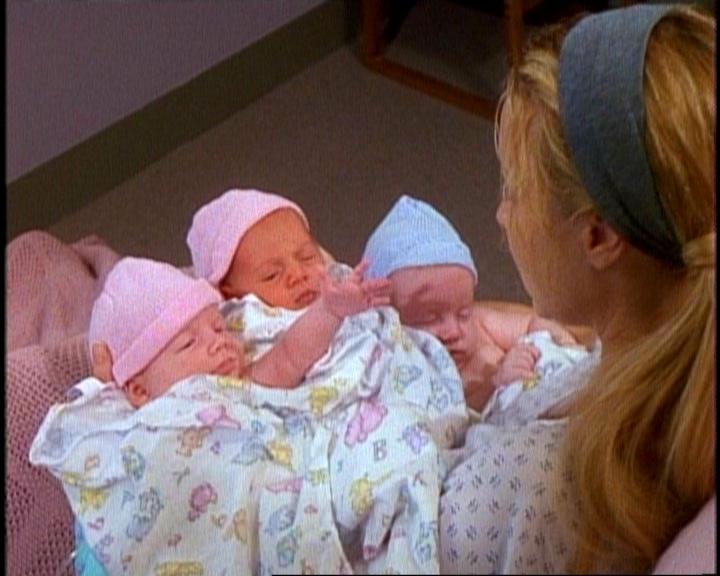 3. The One Where Chandler Is In A Box (Season 4)

Chandler kisses Joey's girlfriend which is 'even worse than sleeping with her' and to apologize, Chandler makes him go inside a box where he should 'think about what he has done'. And we know how much the girl means to Chandler but here we see how much Joey means to him. He doesn't even say goodbye to her because Joey asked him not to speak. You guys, you are just… *sniff*
2. The One With The Prom Video (Season 2)
We always heard how Ross liked Rachel since high school but never got to see it first hand. The groups lands with an old prom video where Rachel and Monica are getting ready to leave for their prom when Rachel's date doesn't show up. Ross volunteers to go as her date but is only left disappointed when the guy comes in at the last moment. Seeing this, Rachel just walks over to him and kisses him like there is no tomorrow. Who needs price charming when you have a Ross.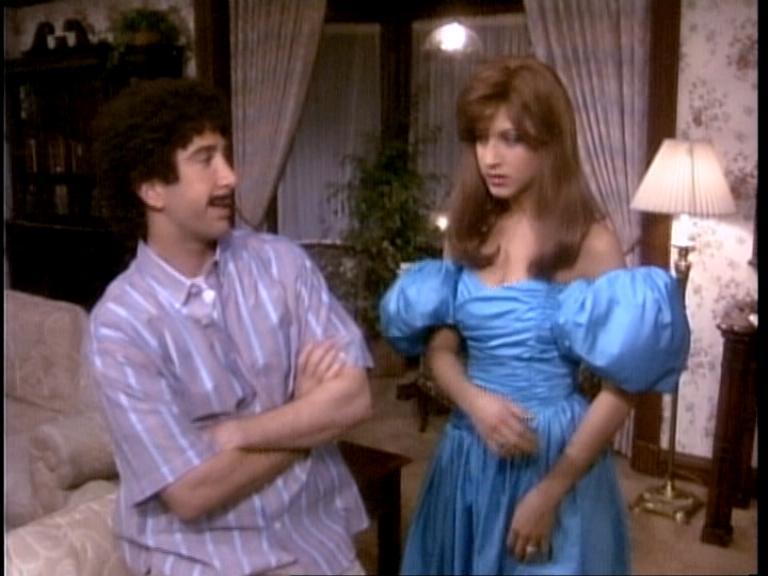 1. The One With The Proposal- Part 2 (Season 6)
The best proposal I have ever seen or heard or read about. It required nothing, no fancy restaurant, no champagne, no Eiffel Tower, just a man and a woman on a rug saying the most beautiful words to one another. I wish I made someone 'the happiest they have ever been' and he would 'try to make me feel the same way'. But its ok…*sniff* we have our *sniff* cats.
Bonus- The One with Ross and Monica's Cousin (Season 7)
Because Denise Richards: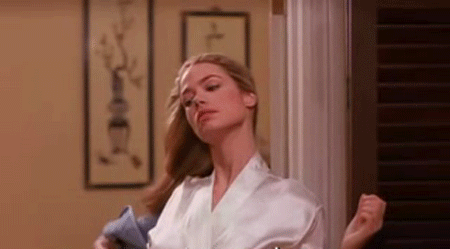 First Published: Sep 22, 2014 21:30 IST