Koffee with Karan 6: Kajol threatens to hit Ajay Devgn with her shoe for cracking a mean joke
On Sunday's episode of Koffee with Karan, guest Kajol spoke about the bad blood that existed between Karan Johar and her husband, Ajay Devgn.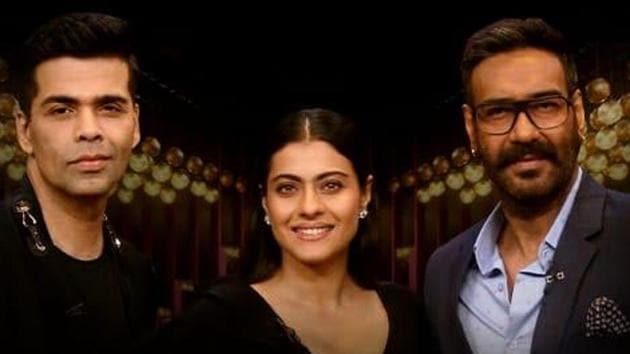 Updated on Dec 03, 2018 01:41 PM IST
Sunday's episode of Koffee with Karan season 6 was a rather pleasant surprise. Even the beginning was far better than usual as host Karan Johar delivered a less random, less forced and seemingly heartfelt opening monologue to introduce the episode and his guests for the night, actor couple Ajay Devgn and Kajol.
Karan wasted no time in bringing up the notorious and very public fight he had with Kajol a couple of years back. He said that though he wrote in his autobiography that he would never be friends again with Kajol, it turned out to be a lie. He spoke with great affection for his best friend, remembering the first time he met her and how she would make fun of his outfit choices.
Once they took their seats, Karan asked Ajay if they could become friends now. While Ajay agreed to the idea, Kajol said she will not let it happen. She told Karan that he was her friend and he doesn't need to become friendly with her husband.
When Karan brought up how rarely we get so see Ajay Devgn at events, award functions or parties, he said he has social anxiety. He likes to do his job and come back home to spend time with his kids. Kajol said that he was just plain lazy but Ajay disagreed.
Karan then discussed their fight two years ago and how they had stopped speaking with each other. Ajay's film Shivaay and Karan's film Ae Dil Hai Mushkil were set to clash at the box office in 2016. Ajay had accused Karan of bribing film critic Kamaal R Khan to publish negative reviews for Shivaay. After their public spat, Kajol also took her husband's side and said that she was shocked at what Karan had done. The film director was hurt by her tweet and decided to break ties with her. He even wrote in his book that she is nothing to him anymore.
On the show, Karan talked about the one time he ran into Kajol at a fashion event and avoided eye contact with her. Kajol remembered him behaving like a diva but also talked about how she saw him leap from his seat to catch her when she was about to trip on something. Karan said he missed her when they weren't talking and wished he could take that chapter from his book back. Kajol said she missed him too. Ajay said he remembered how upset she was after that fashion event about not being able to talk with her friend and he always told her to patch things up with Karan.
Karan and Ajay then discussed Kajol's fixation with taking selfies and editing them for social media, her habit of never buying anything expensive and how she is always happier with kids or the elderly. "She has never done this in her life and I don't know budhaape mein aake...," Ajay said about Kajol's new interest in taking pics. "Tumhara budhaapa hoga, mera toh nai hai," she said, rolling her eyes at him.
Karan also brought up how when they first got together, no one thought they would last due to their contrasting personalities. He said he remembered when Kajol first signed a movie with him, she wasn't sure what he was like and within just a few months, her tone when she talked about him changed drastically. While they were both dating someone else when they met, they were dating each other within a year.
Talking about how they have made their marriage work for 20 years, Kajol said that though they may appear to be two very different people, their priorities are the same. They put family first.
Ajay talked about how much his mother loves Kajol and feels more at ease with her than she does with him. He said that while she may have made an effort in that regard, her connection with his family was also helped by who she is essentially. She said while she does love Ajay, she also respects him a lot.
Kajol revealed that Ajay is the more obsessive parent of the two and often spends his nights waiting for their daughter Nysa until she comes back home. He asks her things like where she is going, when she will be back and more. Karan said that his mother still does it.
Talking about their work, Kajol said she likes her movies to be like the books she likes, fast-paced and exciting. She says this is why she is unable to choose more character-driven movies. Ajay says that one must expect failure and not give successes too much credit and it could come crumbling down. He said he doesn't take much stress about work and leaves it right outside the door.
The rapid fire round gave us some cool answers too. Kajol said Karisma Kapoor is a friend, Hrithik Roshan is a fabulous dancer and that Priyanka Chopra and Nick Jonas make a good couple. When asked who would look good paired opposite her husband, she said, 'Nobody'. She said Saif would be most likely to throw a tantrum, Shah Rukh Khan is most likely to come late. She chose Priyanka over Deepika Padukone as the hotter actress and Fanaa over My Name Is Khan as her favourite film.
On his turn, Ajay said people thought he is rude when he is simply an introvert. He said that the one superstition he believed in was that Karan's film starting with K are lucky at the box office but Kaal turned out to be a flop. When asked which actor of the current generation would look good paired opposite Kajol, he said "As a son?" Kajol screamed, "Kutte, kameene! Joota..." she said while pointing at her shoe. Karan warned her that she can't say that.
When asked the one lie everyone says in Bollywood, Ajay said "I love my wife." Kajol showed him her angry eyes and said "Ghar jaana hai?" Ajay said he was talking about the other men.
Even with all his fiery answers, Kajol ended up winning the hamper.
Follow @htshowbiz for more
Close Story